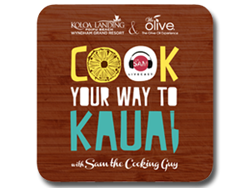 Kauai, HI (PRWEB) August 06, 2013
Koloa Landing Wyndham Grand Resort is celebrating the news of the new Alaska Airlines direct flights from San Diego, Calif. to Kauai with a sweepstakes cooking contest with Chef Sam Zien in a "Cook Your Way to Kauai" cooking contest, Aug. 1 – 16, 2013. One grand prize trip and two more second place prizes will be awarded with entry details listed below. The grand prize package includes two Alaska Airlines non-stop round-trip tickets from San Diego to Kauai, a five day/four night stay at the Koloa Landing Resort in a two-bedroom luxury Villa, appearances on the "Sam Livecast," plus dinner for two at Kauai's popular Merriman's restaurant, located just steps from Koloa Landing Resort.
"With its fantastic local seafood and tropical produce, the garden isle of Kauai is a major foodie destination," said Lance Shenk, general manager, Koloa Landing Resort. San Diego celebrity TV chef Sam Zien has tapped Kauai's beloved Koloa Landing as his exotic locale of choice to shoot new episodes for "The Sam Livecast". The episodes will be shot at the resort in November of this year. Viewers will drink in the local scenery as Zien wows them with his signature "big in taste but small in effort" recipes.
Contestants are asked to create an original recipe and submit a photo of themselves, a photo of the plated dish and the written recipe. Eight contestants will be chosen to battle it out on "The Sam Livecast" in September in San Diego. The winning entrant and a guest will receive free airfare to Kauai courtesy of We Olive (http://www.weolive.com), the Olive Oil Experience for California's local artisan growers.
Two additional lucky winners will be drawn at random from Koloa Landing's Facebook page (facebook.com/koloalandingresort). These entrants need to simply "like" Koloa Landing on the social networking site to be entered into the random drawing for a 5-day/4-night stay at the resort. No cooking necessary.
"Our first Livecast viewer cooking competition was a total blast," says Canadian-born Zien. "This time, thanks to Koloa Landing and We Olive the winners will come to Kauai with us while we shoot a week's worth of Livecast shows, said Zien. "Sunshine, shave ice, Livecast shoots, spam, coconuts, plate lunches… it's going to be ridiculously fun."
For more information about the contest, rules, and to enter visit http://www.koloalandingresort.com/contest or http://www.thecookingguy.com/kauai . The deadline to enter is August 16, 2013.
Located in the heart of the sunny South Shore, Koloa Landing is a Kauai beach resort that offers the largest guest villas anywhere on the island. At 1,300 to 3,600 square-feet with one to four bedrooms, each villa comes complete with a gourmet chef's kitchen, an over-sized lanai with disappearing glass doors, a five-piece bathroom for every bedroom, and much more.
For more information on Koloa Landing Resort, visit KoloaLandingResort.com and read about "Cook your Way to Kauai" and other exciting events and vacation packages. Or call 888.317.0205 to make a reservation today for a Poipu Beach vacation you will remember for a lifetime.
About Koloa Landing Resort
Koloa Landing Wyndham Grand at Poipu Beach is a leading luxury Kauai beach villa resort. With its pristine location, world-class amenities and high-end accommodations, Koloa Landing Resort is a dream destination for a family vacation or a private getaway. Twenty-five acres of lush, tropical landscaping situated less than a mile from Poipu Beach offer two resort pools, a brand new state-of-the-art fitness center and full-service spa. Quite simply, Koloa Landing is the authentic Hawaiian experience at its most refined. Make a reservation today by visiting KoloaLandingResort.com or calling 888.317.0205.
Sam the Cooking Guy
The Sam Livecast is a cross between a radio talk show and a TV cooking show. Canadian-born chef Sam Zien, along with his family and friends, broke new ground by creating the Internet's first live, high definition cooking show originating from his home kitchen. Described as a cross between a radio talk show and a TV cooking show, the thrice weekly episodes provide the host with a forum to discuss both food-related and unrelated subject matter, oftentimes with a politically incorrect and irreverent bent. Using social media outlets, viewers and listeners are encouraged to contribute to the conversation.