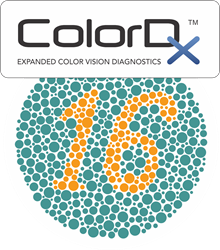 Dr. Ring's research is a strong affirmation of ColorDx providing a substantive technology enhancement to color vision testing.
Irvine, CA (PRWEB) August 13, 2013
The Aerospace Medical Association ("AsMA") has granted the first Thomas J. & Margaraet D. Tredici Award for the most significant contribution to aerospace ophthalmology and vision science to Matthew Rings, MD. Dr. Rings was recognized for his leadership in the study of operational color vision testing and qualifications of U.S. Navy and Marine Corps aviation. As the lead researcher, the team compared and validated various color vision testing programs for both screening and comprehensive assessment of aviation applicants and designated personnel.
The Waggoner Computerized Color Vision Test, marketed under the trade name ColorDx™, was validated by the Rings team at the Naval Aerospace Medical Institute (NAMI) for Navy and Marine Corps testing. The ColorDx application measures both the type (red, green and blue) and the severity (mild, moderate, severe) of color vision deficiencies often described as color blindness. Dr. Rings' research into color vision testing provides critical information for enhancement of testing methods appropriate for the extraordinary demands of modern aircraft control systems. "Color-keyed cockpit control systems require split-second, precision pilot assessment for safety and performance management of aircraft," said CAPT Rings. "Utilizing this new computer application, the medical assessment of color vision is standardized, objective, sensitive, yet very simple to administer. The randomized, self-scoring system eliminates operator bias and enhances our ability to accurately and efficiently qualify aviator's color vision." Dr. Rings' research, unveiled at the annual Aerospace Medical Association meeting, has led the US Department of the Navy toward the requirement for objective, standardized, computerized assessments of color vision for improved accuracy and reliability.
Captain Rings currently serves the US Navy as the Color Vision Research Director at the Naval Aerospace Medical Institute where he is also a Flight Surgeon and lecturer for residents, Flight Surgeons, and other aviation personnel while continuing to be an active Naval pilot. Dr. Rings completed medical school at the University of Nebraska, and his Ophthalmology residency at Naval Medical Center, San Diego.
"Dr. Rings' research is a strong affirmation of ColorDx providing a substantive technology enhancement to what has been prior a manually-performed test that is a important component of aviation vision qualification, standard eye examinations, vocational safety, and school vision screenings," said Charles Wm. Stewart, OD, CEO, Konan Medical USA. "In addition to the obvious needs in aviation, color vision deficiencies generally are often not well screened due to limitations of historical testing methods, non-standardized test conditions, and staff time. ColorDx provides clinicians an exceptional solution that is simple to give, easy to take, yet resulting in a detailed, flight-surgeon-grade color vision report."
About ColorDx and Colorblindness
Konan's ColorDx (http://www.colordx.com) is a family of color vision deficiency tests available as computer applications ("APP"), in print ("PIP"), and in web-browser ("WEB") formats. Designed by color vision expert Terrace Waggoner, OD, the Waggoner assessments of genetic and acquired color vision deficiencies are marketed under the trademark "ColorDx". The Waggoner PIP-24 is one of the most widely used color vision tests in print format and is used by the FAA, NAMI as well as other DOD agencies for screening Navy, Coast Guard, Marine, and Army applicants and aviation personnel. Waggoner's gold-standard pediatric test Color Vision Testing Made Easy is used by the US Special Olympics and is the world's most popular screening test for young children. The Waggoner color vision tests were recently featured in the Wall Street Journal article New Outlook on Color Blindness.
Color deficiencies, also commonly referred to as color blindness, are relatively prevalent with genetic types (red-green) affecting about 1 of 12 males (less than 1% of females) and acquired types (blue) affecting as much as 15% of the general population, regardless of gender. Color deficiencies may affect performance and safety associated with color-critical tasks. Color vision testing was pioneered a century ago and was popularized by noted Ophthalmologist ISHIHARA Shinobu to detect color vision problems for military recruits.
About Konan
Headquartered in Irvine, California, Konan Medical USA Inc. develops, sells, distributes and services specialty diagnostic products for eye care clinicians and eye banks, and supplies clinical diagnostic products for many of the leading ophthalmic product companies in support of clinical trials research in the United States and other parts of the world. Konan Medical USA, Inc. is an ISO certified company. For more information on ColorDx and Konan, visit http://www.ColorDx.com and http://www.konan-usa.com.