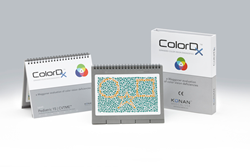 The new colorimetry-corrected ColorDx tests include both the military-grade PIP 24 "Standard" and "Pediatric" Color Vision Testing Made Easy series.
Irvine, CA (PRWEB) March 18, 2014
New ColorDx® tests in print are now available with value added features. Using the latest colorimetry-corrected printing methods, the ColorDx Standard 24, is the newest edition of Dr. Terrace Waggoner's naval-validated print version of the 6-confusion color test for color vision deficiencies (the "PIP 24"). The Standard 24 features the military validated adult / literate test, new administration features, enhanced reporting, a market-proven illiterate / pediatric test section, plus the addition of the novel "Blind Spot Amsler™" pioneered by Dr. Waggoner.
Simultaneously, a new edition of Color Vision Testing Made Easy™, has been released as ColorDx Pediatric 15. This test is designed for young children, very young children and mentally challenged individuals. The test is widely considered to be the gold standard for pediatric color vision assessment and as such has been used exclusively by the Special Olympics for testing Special Olympian's color vision skills.
Both tests feature the latest in colorimetry-corrected production methods that were unavailable with earlier editions. "By incorporating 21st century production methods, the new ColorDx versions of these proven color vision tests are the closest ever to theoretical values of Dr. Waggoner's CIE confusion colors," said Charles Wm. Stewart, OD, CEO of Konan Medical USA. "This is terrific complement to the electronic versions of ColorDx and rounds out the product offering for full flexibility in color vision testing methods."
About ColorDx
Konan's ColorDx® products are family of proven tests for assessment of color vision deficiencies, sometime called colorblindness. Tests are available for genetic and acquired deficiencies, adult / literate and pediatric / illiterate, and in multiple formats: print and as applications on Windows, Android, Mac, and soon on Apple's iPad®. Additionally ColorDx is available on Chart2020®, the premier visual acuity and ocular performance testing platform as a guided, self-scoring Wizard. ColorDx includes military-grade color vision testing that is routinely used at NAMI (Naval Aerospace Medical Institute) for qualification of Naval aviators, and specified for use by the FAA for qualification of civil aviation pilots. The electronic version is self-administering, self-scoring, and self-reporting. ColorDx is FDA listed and CE marked, and is used world-wide in academic, research, and clinical eye care practices. ColorDx color vision tests are developed by Terrace Waggoner, OD and were recently featured in the Wall Street Journal article New Outlook on Color Blindness. ColorDx is now available from Konan Medical, Konan territory managers and distributors globally. The Blind Spot Amsler test is featured by the Macular Degeneration Foundation's web site. Macular Degeneration is the leading cause of vision loss in Americans over age 60.
About Konan
Headquartered in Irvine, California, Konan Medical USA Inc. develops, manufactures, sells, distributes and services specialty diagnostic products for eye care clinicians and eye banks, and supplies clinical diagnostic products for many of the leading ophthalmic product companies in support of sponsored FDA clinical trials research in the United States and other parts of the world. Konan Medical USA, Inc. is an ISO certified company. For more information on ColorDx and Konan, visit http://www.KonanMedical.com.