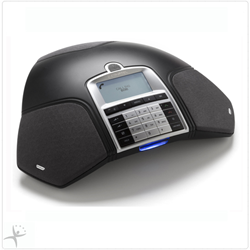 Buffalo, Ny (PRWEB) April 01, 2015
VoIP Supply, North America's leading VoIP solutions provider, is announcing today the availability of Konftel Conference Phones for Unified Communications.
Konftel, based in Sweeden, got its start in 1988 when a bank manager enlisted the help of an electrical consultant, Konftel CEO Peter Renkel, to find a two-way communication solution for his offices.
Renkel then developed what would become the modern conference phone and founded Konftel, which today is Europe's leading conference phone manufacturer.
Konftel conference phones rely on OmniSound®, a patented audio technology that eliminates background noise while providing clear sound even when the person who is speaking is moving around in the conference room.
Konftel devices are able to connect and make calls in a variety of ways allowing users to hold different types of meetings such as:

Web Meetings: Talk to clients via communications software like Skype or Microsoft Office Communicator using Konftel as the audio source.
Mobile Meetings: Konftel conference phones connect to mobile phones by cable or via Bluetooth® for meetings anywhere.
Private Conversations: Versatile Konftel conference phones can be a user's only phone with the option to turn off the speakers and use a wireless headset for private calls.
Konftel differs from other leading conference phone manufacturers with built-in features such as:
Call recording on SD memory card
Up to 5-way conference calls
Dual SIP accounts
PA connectivity option for large meetings, large rooms
Wireless headset connectivity
Optional expansion microphones for extended range
All Konftel conference phones are supported by a two year warranty and no hassle customer service.
For more information about Konftel solutions available from VoIP Supply, call 800-398-VoIP or, visit http://www.voipsupply.com/manufacturer/konftel.
About VoIP Supply
We solve problems and create solutions with VoIP. VoIP Supply is a world class place to work with big goals,a clear vision, defined purpose and a dedicated team of passionate business professionals. We love what we do and do it better than any of our competition.
Since 2002, VoIP Supply has been the leading supplier of VoIP equipment and complete VoIP solutions in North America. We are known in the industry as responsive and knowledgeable VoIP product experts.
With everything you need for VoIP, VoIP Supply has grown rapidly throughout the years. VoIP Supply is a three-time Inc. 500/5000 honoree, listed by Business First as one of WNY's Most Admired Companies, as well as one of Western New York's Best Places to Work for many consecutive years.. VoIP Supply is also the first Certified B Corporation in Western New York.