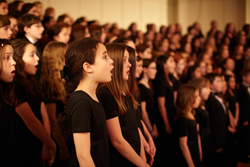 Annapolis, MD (PRWEB) June 18, 2014
Annapolis says "dobro pozhalovat" and "vítejte!" to some musical visitors on June 28. On that day, four vocal groups from two continents gather for a free evening of music from Russia, Georgia, the Czech Republic and Connecticut in the USA. Experience the soul of these nations in their young voices. Presented by Classical Movements, Inc., in partnership with Live Arts Maryland, J. Ernest Green, Music Director, this concert is part of the Serenade! Washington, DC, Choral Festival and St. Anne's Music Series.
The Konevets Quartet, under the direction of Igor Dmitriev, was founded in 1992 by graduates of the St. Petersburg Music Conservatory with the goal of sharing the rich Russian vocal tradition with its audiences. The quartet's repertoire includes Russian folk and sacred music, ranging from hymns by twentieth century composers such as Chesnokov, Gretchaninov and Stravinsky, to ancient chants. The repertoire also features regimental songs and marches of the Tsarist armies and military academies.
Ondrášek is an award-winning choir from Nový Jièín in the Czech Republic that shares a great love for Czech and Moravian songs. Founded in 1967 by Václav Ptáèek, the choir was named Ondrášek as a synonym for free and open-minded youth. In 1992, Josef Zajíèek assumed the conductor's baton having been one of the first members of the choir. The name Ondrášek has performed on major stages in Europe, Japan, South Africa and Ural. Ondrášek organizes musical programs for children and young people, workshops for young conductors and, since 1996, a nationwide children's choir competition.
Arishi, formed in 2006, is a folklore ensemble from the historic city of Rustavi, Georgia. Its repertoire focuses on traditional Georgian chant as well as sacred church songs. The name "Arishi" refers to a fortress in Rustavi, which is the city's stronghold. Led by Zaza Ketchakmadze, the ensemble has performed several times for the President of Georgia and has participated in many folk festivals across Georgia and other European countries. In 2011, the ensemble took part in the "Harmonie" Festival in Germany, where they won a prize for Best Vocal Ensemble.
The Fairfield County Children's Choir (FCCC) was founded in 1995 as a community-based choral program made up of 300 children in grades four through twelve from communities in and around Fairfield County, Connecticut. The FCCC has performed extensively throughout New England and around the United States as well as in Europe. The group has shared the stage with such artists as Renee Fleming, Charles Strouse, Stephen Schwartz, Sam Waterston and Christopher Plummer.
For more information on the concert and the performing groups, visit http://www.liveartsmaryland.org or call 410-263-1906.
Live Arts Maryland is one of the region's largest and most active non-profit arts organizations dedicated to enhancing community life by performing and presenting high-quality music and providing music education for all ages. Live Arts Maryland is home to the Annapolis Chorale, Annapolis Chamber Orchestra, the Annapolis Youth Chorus and the St. Anne's Concert Series. It also offers such music education programs as the Student Rush ticket program and a scholarship program for high-school music students. The Annapolis Chorale is a resident company of Maryland Hall for the Creative Arts and is supported by the Maryland State Arts Council, the Arts Council of Anne Arundel County and the City of Annapolis.
Classical Movements is one of the world's leading concert planning and music management companies. Clients include some of the world's finest orchestras, including the National Symphony Orchestra, Baltimore Symphony Orchestra, London Philharmonic, and several other European and American Orchestras. They also are a leader in making concert and travel arrangements for some of the best choruses around the world, including The Collegiate Chorale, Dallas Symphony Orchestra Chorus, Pacific Boychoir, VocalEssence, Young People's Chorus, and many more! In its twenty-one years, Classical Movements has worked in over 140 countries on six continents. The company also produces the Eric Daniel Helms New Music Program for new music commissions, an international choral series, and four annual international music festivals in Europe, South America, Africa and North America. Classical Movements strives to spread global understanding and unity through the universal language of music.