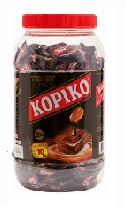 (PRWEB) December 18, 2014
IndoFoodStore.com, the largest online retailer of Indonesian food, has updated its vast selection of Indonesian coffee products. Indo Food Store now carries Kopiko brand coffee products including instant coffee, hard coffee candy and also coffee biscuits!
Kopiko Instant Indonesian Coffee is a world renowned brand that is known for its great instant coffee. All Kopiko coffee products are made from the Kopiko coffee bean which is grown in Hawaii. IndoFoodStore.com has a variety of Kopiko Coffee that includes: instant coffee, java coffee and brown coffee. The instant and brown coffee both come with 30 packets per bag, while the java coffee comes with 10 packets per bag.
Also available from IndoFoodStore.com is Kopiko hard coffee candy in coffee and cappuccino flavors. Kopiko candy is the #1 selling coffee candy in the U.S. The candy is made from the finest coffee beans that are blended specially and has an authentic coffee taste without having to brew up a cup of coffee. This hard candy comes in two flavors: Coffee and Cappuccino. The Kopiko Candy is one of the finest coffee flavored hard candies available. Each individual candy contains real extract from real coffee beans. These Kopiko candies come in a few different sizes. They can be bought in 28 pieces bags or 200 piece jars. To satisfy a coffee craving, these candies are a real life-saver.
Coffee Biscuits are another selection of coffee products that can now be bought from this website. Coffee Biscuits make an excellent snack and it has that taste of coffee people crave each and every morning. Cappuccino Coffee Joy Biscuits, by Mayora, are an excellent way to fill that craving for coffee taste. These biscuits are available in 48 piece packs and are small enough to be eaten anywhere, whether its at home or on the road.
IndoFoodStore.com may have added these three types of different products, but they aren't the only three that have been added. Many of the other products include many new sweets and desserts. One of these new added products is Astor wafer sticks. Astor wafer sticks are a tasty and crunchy wafer filled with chocolate for the best taste possible. Other assorted wafer sticks are also now available. Stikko has come out with wafer sticks and they have a variety to choose from, which include: vanilla, chocolate, mocha and strawberry. These stikko wafers come in a 14 ounce can. Coconut gelatin is also now available for sale. These coconut gelatin come in 12 ounce packs and are available in three different flavors. These three flavors include: coconut, lychee and mango. All three flavors are now available at IndoFoodStore.com.
About Indo Food Store:
IndoFoodStore.com is the largest retailer of Indonesian food products online with 1,000+ Indonesian grocery store items such as Indonesian Sambal Chili Sauce, Indonesian Spices & Instant Seasoning, Noodles, Kecap, Krupuk, De Ruijter, Snacks, Desserts, Drinks, and exclusives such as Jeruk Limau, Best Fried Onion, Gula Jawa & much more on Indo Food Store's Indonesian Food Online Grocery Store!