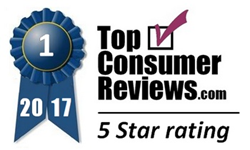 We're pleased to award Rocket Languages with a first-place ranking for their Korean Lessons program in 2017.
Overland Park, KS (PRWEB) April 25, 2017
TopConsumerReviews.com recently gave a best-in-class 5-star rating to Rocket Languages, a leader among programs offering lessons in the Korean language.
Why study the Korean language? Reasons can vary across the board. Some people have North or South Korean ancestry and want to reconnect with their heritage, while others hope to use the language in their business as they travel. And, the number of people who've become fascinated by K-Pop music in recent years has led to an increased interest in learning Korean. However, because the language is not as popular as Spanish, French, or even Chinese and Arabic, many hopeful learners are turning to online lessons to help them master Korean when there are no classes available locally.
"Rocket Languages is one of the world's most popular language-learning platforms, and their Korean lessons are top-notch," stated Brian Dolezal of TopConsumerReviews.com, LLC. "Students using this program to learn Korean can expect to take their ability to an intermediate level of fluency, through Rocket's package of 25-minute audio lessons, voice recognition phrases, language and culture lessons, and much more. And, unlike some Korean lessons, Rocket Languages' program includes writing lessons so that students can speak, read, and write the language. We especially love that Rocket not only includes a comprehensive free trial of their package but also a 60-day money-back guarantee. We're pleased to award Rocket Languages with a first-place ranking for their Korean Lessons program in 2017."
To find out more about Rocket Languages and other providers of Korean lessons, including reviews and comparison rankings, please visit the Korean lessons category of TopConsumerReviews.com at http://www.topconsumerreviews.com/korean-lessons/.
About Rocket Languages
Rocket Languages is a recognized leader in online language learning, with over 1,200,000 registered users of Rocket Languages products. Formed in early 2004 by Jason Oxenham and Mark Ling, Rocket Languages began with Rocket Spanish Premium and expanded to include more than a dozen language programs designed for effective, natural learning.
About TopConsumerReviews.com
TopConsumerReviews.com, LLC is a leading provider of independent reviews and rankings of hundreds of consumer products and services. From Korean Lessons to Portuguese Lessons and Travel Insurance, TopConsumerReviews.com delivers in-depth product evaluations in order to make purchasing decisions easier.