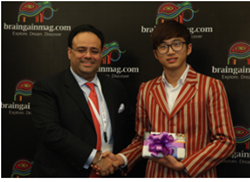 I am overwhelmed with the huge student turnout at our first Study Abroad Information Session, which indicates the hunger for quality education our kids have today, said Harjiv Singh, founder and publisher of BrainGain Magazine.
New Delhi (PRWEB UK) 26 February 2014
BrainGainMag.com, South Asia's largest online study abroad publication on higher education, has announced that Ko Beom Min has emerged as the winner of its competition at the StudyAbroad information session held recently on the sidelines of the One Globe 2014 knowledge conference in Delhi. Students from 10 leading schools from Delhi and nearby cities participated in the session including APJ School, Carmel Convent School, Delhi Public School, G.D. Goenka World Institute, Guru Harkishan Public School, Lotus Valley International School, Modern School, Pathways World School, Summer Fields School, Tagore International School and The Sagar School.
Harjiv Singh, founder and publisher of BrainGain Magazine, gave away the Samsung Galaxy Tab as prize to Ko Beom Min from South Korea, who is presently studying in Class X at The Sagar School. The free Study Abroad information session for students and their parents featured interactive discussions and workshops including 5 Secrets to acing your test with Lisa Jain of College Board, Oxford and Columbia alumnus Kavita Singh, CEO of FutureWorks Consulting, and Ambika Behal, Managing Editor of BrainGain Magazine; Advantages of a European Education: Perspectives from France and the Netherlands with Caroline Gueny-Mentre of Campus France, Gilles Verniers, delegate to India from Sciences Po and Sudha Sudeep of Neso Nuffic; Studying in the USA with Jerry MacArthur Hultin from New York University and Sethuraman "Panch" Panchanathan from Arizona State University; and How to get into Oxford, Cambridge and the Ivy Leagues with Akanksha Bapna, CEO, Evaldesign, who is an alumnus of Harvard University and University of Cambridge, and Kavita Singh of FutureWorks Consulting. The sessions provided an informative and engaging way to demystify the various issues pertaining to studying abroad.
Adobe, the global leader in digital marketing and digital media solutionsheld a workshop on Creative Resumes where students got an opportunity to learn how they can use simple yet powerful tools such as Adobe Photoshop, Illustrator and InDesign to create impressive and creative cover letters, resumes and portfolios to stay ahead of others while applying for the top universities worldwide. Students also learnt how they can create strong credentials in digital formats that allow them to be carried on the smart devices such as tablets and mobile phones.
Says Umang Bedi, Managing Director, Adobe South Asia, "After roti, kapda and makaan, mobile phone has become the single most penetrated commodity in India. We need to think if we are providing the right tools and technologies to disrupt education and if we are giving our kids enough freedom to create so as to be able to increase their receptiveness to education and make India a product innovation hub. In today's digital age, technology is empowering educators and students to create content for experiential learning. It enables dynamic and engaging modes of communication, allowing students to express their ideas far more freely than with traditional modes of knowledge transfer."
Harjiv Singh, founder and publisher of BrainGain Magazine, and an alumnus of Columbia University himself, says, "I am overwhelmed with the huge student turnout at our first Study Abroad Information Session, which indicates the hunger for quality education our kids have today. In order to become a 21st century knowledge hub, India and South Asia must overcome significant challenges including the highest rates of adult illiteracy in the world, lack of quality education across large parts of the region, shortage of teachers, low gross enrolment ratio and limited exchanges at the regional level. I believe that technology has an immense role to play in turning the tables and helping us leapfrog on the education front." Harjiv also led a student session on Tips and tricks for financing your education abroad.
About BrainGain Magazine
BrainGain Magazine (http://www.braingainmag.com) is the leading Study Abroad magazine for students, their parents, and mid-career professionals in South Asia. We aim to be the definitive source of information for anyone interested in exploring and learning about Study Abroad opportunities outside South Asia. Our primary target audience is between the ages of 16 and 35 years. We provide content to guide students and their parents through the decision-making process when exploring options to study abroad. The topics covered help readers understand fields of study, admissions, financing, specific countries, regions or cities, student life, scholarships, job prospects for chosen field, socio-cultural environments, safety and visa issues. Told through lively interviews, photos, videos and podcasts, we provide an interactive platform that helps students realize their dreams.
For more details, please contact:
Puneet Khunger
Gutenberg Communications
A-85, East of Kailash, New Delhi, India
+91.9810191409
puneet(at)gutenbergpr(dot)com