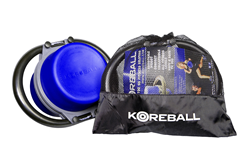 "I feel the KOREBALL is a great training tool and can be used by clients with various fitness goals and at all levels. The versatility of the KOREBALL enables beginners and advanced trainees use it," said
Monterey, CA (PRWEB) November 25, 2014
KOREBALL™, the only collapsible, weight adjustable, portable, kettlebell workout system, is on track with the latest fitness trends. A replacement for the traditional kettlebell, medicine ball and hand weights, KOREBALL is versatile and enables fitness enthusiasts to perform High Intensity Interval Training (HIIT) workouts in 30 minutes or less. Designed with an adjustable factor from three to 20 pounds, the product offers consumers of all ages and fitness levels the convenience of working out at home or when traveling, and a series of free workouts online at http://www.KOREBALL.com.
According to the most recent annual IDEA World Fitness Conference, KOREBALL is on track with fitness trending for 2015 which includes: High Intensity Interval Training (HIIT), shorter workouts averaging from 20, to 30 or 40 minutes, and online workouts with videos.
HIIT workouts – feature alternating periods of short intense anaerobic exercise combined with less-intense recovery periods. A form of cardiovascular exercise, HIIT sessions may vary from four to 30 minutes of short, intense exercises that help improve athletic capacity and condition, improved glucose metabolism and fat burning.
Shorter 20, 30 and 40-minute workouts – are ideal for people on-the-go. KOREBALL is for all levels of fitness enthusiasts and provides a dynamic and efficient full-body workout in 30 minutes or less.
Web-based fitness or online workouts – are trending with more and more people of all ages participating in online workouts using streaming videos on YouTube. KOREBALL kettlebell workout routine videos are posted on the website, which users can easily view on their smartphones or tablets while exercising.
"KOREBALL workouts can vary from full-body workouts to intense zone training," said developer Rick Warren, a certified personal trainer. "For those with tough schedules doing as few as three sets in the morning can make a huge difference over time. The ultimate complete fitness tool, KOREBALL is compact and ready to take anywhere, replacing your dumbbell, kettlebell or medicine ball."
KOREBALL Features and Benefits
The innovative and patent-pending, state-of-the-art design of the KOREBALL kettlebell workout system is a hybrid of traditional kettlebell and medicine ball training equipment. Standard kettlebells are comprised of a solid metal bell and handle, which can be challenging to use. A medicine ball is often difficult for users to hold on to the ball for longer than a few minutes at a time and has limited range of motion.
The KOREBALL water or sand filled, leak proof, bladders are soft and weight adjustable from three to 20 pounds while smooth comfort dual handles make training fun and easy. An on-the-go fitness solution for all fitness levels, KOREBALL's unique design offers users the following benefits:

Comfortable dual handles offer a variety in routines; use both or one handle at a time
Weigh adjustable bladder(s) can be empty (5lbs) or filled with water (11 lbs.) or sand (20 lbs.) or both (15 lbs.)
Made from soft, high quality Santoprene rubber
Collapsible and compact for travel; easy to store away
Provides a HIIT workout using compound moves
A fat burning cardiovascular workout
Helps build lean muscle
Engages core muscles, providing tone
Increases body core stability, flexibility and balance
Free online workouts at http://www.KOREBALL.com
The KOREBALL is priced for holiday gift giving at a special price of $55.95 online at http://www.koreball.com. It comes with two bladders, one handle, eight screws, two caps and a convenient carry bag for portability.
"I feel the KOREBALL is a great training tool and can be used by clients with various fitness goals and at all levels. The versatility of the KOREBALL in regards to using water, sand, one half, or both enables beginners and advanced trainees use it," said Scott Keppel of Scott Training Systems and the official trainer for Miss Arizona, Alexa Rogers.
About KOREBALL
The KOREBALL™ is the only collapsible, weight adjustable and portable kettlebell workout system, offering an on-the-go, full-body cardiovascular workout that helps burn fat, build lean muscles and tone the body, while also improving flexibility, balance and strength.
Rick Warren 3rd Degree Black Belt, Certified personal trainer, designed and developed the KOREBALL because he saw a need for a multi-purpose portable, collapsible and water fillable fitness tool that was travel friendly, easy to use and could be filled up anywhere.
With the help of his wife Cindy Warren, they concept became a reality. Rick and Cindy live the modern lifestyle where staying fit wherever you go is essential.
Please visit: http://www.koreball.com
Media: Kristin Gabriel, MarCom New Media
T: 323-650-2838
E: Kristin(at)marcomnewmedia(dot)com
KOREBALL: Cynthia Farrow-Warren, Partner
E: cindy(at)koreball(dot)com