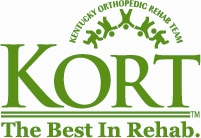 It offers patients an alternative way to retrain injured or weakened muscles while recovering more quickly and with less pain.
(PRWEB) June 02, 2015
It sounds like space-age technology, and it is. The AlterG® Anti-Gravity Treadmill® uses patented NASA technology to provide up to 80% body weight support. This virtually weightless environment reduces the normal stress and strain on the body caused by gravity. This means patients recovering from surgery or an injury can begin rehabilitation exercises sooner and see improvements more quickly.
"Using the AlterG® Treadmill helps patients regain mobility, develop strength and fitness, and increase their range of motion and natural movement all while minimizing stress on injuries. It offers patients an alternative way to retrain injured or weakened muscles while recovering more quickly and with less pain," said KORT Springhurst Clinic Director Dr. Robin Harrington, PT, DPT, OCS. "We're thrilled to bring the most advanced physical therapy technology available to our patients."
Benefits of the AlterG® Anti-Gravity Treadmill®
This advanced technology controls gravity and reduces body weight while walking or running allowing patients to:

Rehabilitate with less pain while reducing the risk of further injury.
Track their progress and stay engaged and motivated during rehab.
Provides physical therapists with a precise tool to measure results and make necessary changes.
According to Harrington, AlterG® is perfect for those rehabbing after a total joint replacement or recovering from an injury. It also offers a fall-safe environment for older patients working on gait training and conditioning.
Training Advantage
In addition to helping with rehabilitation, the AlterG® Treadmill can help athletes train more efficiently, said Harrington. It provides a low impact environment which prevents wear and tear on your muscles and joints, she said. The virtually weightless environment is excellent for sport specific conditioning and fitness improvement programs as well as weight-loss programs, according to Harrington.
With AlterG® athletes can:

Run without discomfort or pain
Train through injuries
Run or walk without the normal gravity-based impact on joints
Burn more calories by going farther or faster than you normally would
If you have questions or would like to schedule a complimentary consultation, visit http://www.kort.com or call 1-800-645 KORT (5678).
Most health insurance plans now allow patients to seek physical therapy treatment directly without a physician referral.
For over 27 years, Kentucky Orthopedic Rehab Team (KORT) has been the specialist in outpatient physical and occupational therapy in Kentucky and Southern Indiana. Local ownership and independent operations allow our therapists to work one-on-one with patients helping them to regain strength, increase flexibility, improve mobility, and reduce pain without medication or surgery. Selected as a "Best Places to Work in Kentucky" for 11 consecutive years, and with over 40 locations, KORT has the most board certified Orthopedic Specialists and Vestibular Rehabilitation specialists of any other provider in the Commonwealth. KORT's certified athletic trainers provide services to more than 30 high schools and colleges making us the largest sports medicine provider in the region. KORT has improved more lives by providing compassionate care to more people, in more communities, and in more locations than any other outpatient physical or occupational therapy provider in the state of Kentucky. Through our years of commitment to the physicians and patients of Kentuckiana, KORT is time tested and most trusted.
###