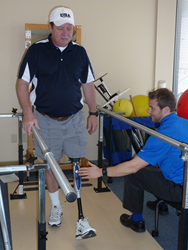 Learning to live with an amputation and regaining quality of life are the main goals of the KORT Amputee Progam
Richmond, Kentucky (PRWEB) May 29, 2015
Recently, KORT Richmond, 5006 Atwood Drive, added a new therapy program focused on helping amputees regain their quality of life. The program works with those new to prosthetic devices and those who may have had one for years, but are still having difficulty.
According to the Amputee Coalition, there are nearly 2 million people living with limb loss in the United States. The main causes of amputation are vascular disease (54%) – including diabetes and peripheral arterial disease – trauma (45%) and cancer (less than 2%), according to the National Center for Health Statistics.
Learning to live with an amputation and regaining quality of life are the main goals of the KORT Amputee Program, says Dr. John Wright Polk, IV, PT DPT is Amputee Program Director in Richmond.
"Our physical therapy sessions focus on the patient's individual needs and goals. Whether that's learning how to properly put on and take off a prosthetic device or learning how to run. We work with our patients giving them the tools they need to get them back to the life they want with no limitations," said Polk.
Program sessions are usually 1-hour and include:

Gait training
Balance training
Mirror therapy for phantom limb pain
Education and proper demonstration on how to wear the prosthesis
Home exercise programs to improve flexibility, strength, balance and walking
Confidence and motivation you need to get your life back
If you have questions or would like to schedule a complimentary consultation to help assess your condition, visit http://www.kort.com or call KORT Richmond at (859) 623-2057.
Most health insurance plans now allow patients to seek physical therapy treatment directly without a physician referral.
For over 27 years, Kentucky Orthopedic Rehab Team (KORT) has been the specialist in outpatient physical and occupational therapy in Kentucky and Southern Indiana. Local ownership and independent operations allow our therapists to work one-on-one with patients helping them to regain strength, increase flexibility, improve mobility, and reduce pain without medication or surgery. Selected as a "Best Places to Work in Kentucky" for 11 consecutive years, and with over 40 locations, KORT has the most board certified Orthopedic Specialists and Vestibular Rehabilitation specialists of any other provider in the Commonwealth. KORT's certified athletic trainers provide services to more than 30 high schools and colleges making us the largest sports medicine provider in the region. KORT has improved more lives by providing compassionate care to more people, in more communities, and in more locations than any other outpatient physical or occupational therapy provider in the state of Kentucky. Through our years of commitment to the physicians and patients of Kentuckiana, KORT is time tested and most trusted.
###