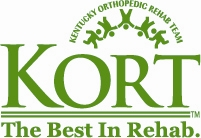 They are a shining example of why KORT is a leader in the industry and demonstrates our commitment to continued education and excellence," said KORT President Jason Chambers
Louisville, Kentucky (PRWEB) July 12, 2016
Recently, eight physical therapists from KORT locations in Frankfort, Louisville, Owensboro, Shepherdsville, and Winchester, Kentucky and New Albany, Indiana earned the professional designation Orthopaedic Certified Specialist (OCS) from The American Physical Therapy Association (APTA) American Board of Physical Therapy Specialties (ABPTS). Currently, there are only 147 Board Certified Specialist in Orthopaedics in Kentucky and of those 49 (33%) work for KORT.
Only 65% of participants pass this rigorous 6-hour, 200 question exam which is open to licensed physical therapist who have practiced for a minimum of 2,000 hours (1-2 years) working with patients who have orthopaedic issues. Of the 185,000 licensed physical therapist in the United States, fewer than 10,000 are OCS certified.
"These clinicians worked tirelessly to prepare and their hard work paid off. They have received one of the highest designations available in our profession. They are a shining example of why KORT is a leader in the industry and demonstrates our commitment to continued education and excellence," said KORT President Jason Chambers.
According to the APTA, the specialist certification program was created to provide formal recognition to physical therapists with advanced clinical knowledge, experience, and skills in a specialized area of practice, and to assist consumers and the health care community in identifying these physical therapists. The OCS designation is for those clinicians who meet the highest standards and have demonstrated the ability to provide specialized care to those with bone fractures, abnormalities of the skeletal system and other orthopedic problems.
Meet the Orthopaedic Specialists
Emily Bickers, PT, DPT KORT New Albany
Bickers graduated with her Doctorate in Physical Therapy from the University of Evansville and Bachelor of Science from Indiana University. She is a member of the American Physical Therapy Association, the Indiana chapter of the APTA, and functional movement systems. She is certified to perform the Y-balance, functional movement screen, and selective functional movement assessments.
Aaron Flaherty, PT, DPT KORT Owensboro
Flaherty earned his Doctorate of Physical Therapy, as well as his bachelor's in Psychology from the University of Kentucky. His clinical interests lie in the treatment of orthopedic and sports medicine injuries. He likes camping, golfing, traveling, ping pong, and flag football. He is active in Our Lady of Lourdes church in Owensboro
Lori Beth Lile, PT, DPT KORT Fern Creek
Lile received her Doctor of Physical Therapy degree from the University of Kentucky after studying Exercise Science at UK. Her clinical interests include sports injuries, manual therapy, and joint replacements. Outside of physical therapy, she enjoys spending time outdoors, traveling, and cheering on her UK Wildcats.
Katie Lucas, PT, DPT, SCS KORT New Albany
Lucas earned her Doctorate in Physical Therapy as well as her Bachelor's degree (Magna Cum Laude) from Bellarmine University. At Bellarmine, she ran track and cross country earning Academic All American and All American status in the 3,000 meters. She has specialized in treating runners since 2011 and graduated from the Sports Residency Program at Cincinnati Children's Hospital in 2013. Lucas is a Sports Clinical Specialist, Certified Strength and Conditioning Specialist, and enjoys treating young athletes, long and short distance runners, as well as individuals with disabilities. She is a member of the American Physical Therapy Association, Kentucky Physical Therapy Association, Orthopedic Section, Pediatric Section, and Sports Section. Lucas is the current Vice-Chair of the APTA's Physically Challenged Athlete SIG. She performs Dartfish movement analyzes and is an adjunct professor at Bellarmine University.
Emily Maurer, PT, DPT KORT Frankfort
Originally from Hutchinson, MN, Maurer earned her Doctorate in Physical Therapy from the University of North Dakota in 2010. Her clinical interests include orthopedic and sports rehabilitation, neurological disorders, muscle energy, manual therapy, and therapeutic riding. She enjoys working one on one with patients to return them to their highest quality of life. She enjoys riding her horse Honey, rock climbing, cycling, and hiking.
Billie Rehberg, PT, DPT KORT Shepherdsville
Originally from Danville, KY, Rehberg graduated from Bellarmine University with a Bachelor of Health Sciences degree in 2010, followed by her Doctorate of Physical Therapy in 2011. Her clinical interests include orthopedic manual therapy and rehabilitation of the shoulder and cervical spine. In her spare time, she enjoys photography and playing with her toy poodle Pepé.
Mandy Watts, PT, DPT, ATC KORT Winchester
Born in South Boston, Virginia, Watts earned her Doctor of Physical Therapy Degree from Marymount University, and Bachelor of Science in Athletic Training from Lynchburg College in Lynchburg, VA. Watts grew up playing basketball, softball, and volleyball with a love for outdoor and water sports. Her athletic training experience has been with athletes of all ages in sports such as football, baseball, basketball, softball, and men's lacrosse. She enjoys working with athletes specifically baseball and softball pitchers as well as patient's with all orthopedic diagnosis. Her hobbies include playing guitar, boxing, enjoying a day out by the water, and anything outdoors.
Nick Weickel, PT, DPT KORT Old Brownsboro Crossing, Louisville
Weickel received his Doctor of Physical Therapy degree from the University of Kentucky. His clinical interests are in manual therapy and sports injuries. Weickel holds a Bachelor of Science degree in Mechanical Engineering from the University of Dayton, at one time attaining his Professional Engineering license in the state of Kentucky. Weickel enjoys running, biking, being outdoors with his dog and cheering on his hometown Louisville Cardinals.
Most health insurance plans now allow patients to seek physical therapy treatment directly without a physician referral.
For over 28 years, Kentucky Orthopedic Rehab Team (KORT) has been the specialist in outpatient physical and occupational therapy in Kentucky and Southern Indiana. Local ownership and independent operations allow our therapists to work one-on-one with patients helping them to regain strength, increase flexibility, improve mobility, and reduce pain without medication or surgery. Selected as a "Best Places to Work in Kentucky" for 12 consecutive years, and with over 50 locations, KORT has the most board certified Orthopedic Specialists and Vestibular Rehabilitation specialists of any other provider in the Commonwealth. KORT's certified athletic trainers provide services to more than 30 high schools and colleges making us the largest sports medicine provider in the region. KORT has improved more lives by providing compassionate care to more people, in more communities, and in more locations than any other outpatient physical or occupational therapy provider in the state of Kentucky. Through our years of commitment to the physicians and patients of Kentuckiana, KORT is time tested and most trusted.
###