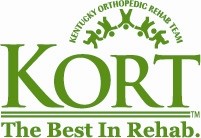 The treatment you receive at KORT is not just a one-size fits all. The therapist decides what you can do and makes the treatment fit you.
(PRWEB) November 13, 2013
For Diane Cobb, neck pain had become a way of life. For more than six months, she experienced severe neck pain and limited mobility before seeking the help of a KORT physical therapist.
"Before my therapy, I couldn't move my head very far to each side. I was in a lot of pain and because of that couldn't do many of things I enjoy. After the first two treatments, I could tell a big difference. Now, I can move my head much farther with much less pain, and the neck vertebrae move much better. I can enjoy my life again," said Cobb.
Cobb's situation is not unique. It's estimated that more than a third of the general population will experience neck pain this year. According to a 2012 study by Cleland, one-third of those patients will develop chronic symptoms lasting more than six months. The likelihood of experiencing neck pain increases dramatically as people age.
Neck Susceptible to Injury
According to KORT physical therapist Chad Garvey PT, DPT, OCS, FAAOMPT the unique anatomy of the neck and cervical spine make it more susceptible to injury and wear and tear. The cervical spine and its associated muscles, ligaments, joints, and nerves have multiple responsibilities, including twisting, balancing, rotating, and keeping your head, at a weight of 12-15 pounds, steady functioning almost like a finely tuned gyroscope, he said.
Garvey offers the following as signs that you may need to see a physical therapist.
Signs and Symptoms of Neck Pain

Pain in your neck that may feel sharp or dull
Neck stiffness
Trouble turning your head when driving
Difficulty going about your daily tasks because of pain or stiffness in your neck, shoulder, or back
Difficulty sleeping due to pain or stiffness
Headaches
According to Garvey, KORT offers a number of treatment options that can be tailored to the specific needs of each patient.
Cobb agrees saying, "The treatment you receive at KORT is not just a one-size fits all. The therapist decides what you can do and makes the treatment fit you. KORT customized my treatment so I could regain movement in my neck and enjoy some of the things I haven't been able to for a while."
"Physical therapists are musculoskeletal experts who have the necessary skills to assess whether a person who is experiencing neck symptoms will benefit from physical therapy," he said. "If you're experiencing any of the symptoms listed above, time is not on your side. The longer symptoms persist, the more likely they will become chronic and harder to resolve."
Garvey provides the following tips to avoid neck injuries.
Tips to Avoiding Neck Injuries

Take frequent, even hourly, breaks if you drive long distances or work long hours at your computer.
Adjust your desk, chair and computer so the monitor is at eye level. Knees should be slightly lower than hips. Use your chair's armrests.
Avoid tucking the phone between your ear and shoulder when you talk-- get a headset.
Stretch frequently if you work at a desk. Shrug your shoulders up and down. Pull your shoulder blades together and then relax. Pull your shoulders down while leaning your head to each side to stretch your neck muscles.
Balance your base. Stretching the front chest wall muscles and strengthening the muscles around the shoulder blade and back of the shoulder can promote a balanced base of support for the neck.
Limit sleeping on your stomach. This position can put stress on your neck. Choose a pillow that supports the natural curve of your neck.
Most health insurance plans now allow patients to seek physical therapy treatment directly without a physician referral.
Kentucky Orthopedic Rehab Team (KORT) has been specializing in outpatient physical and occupational therapy in Kentucky and Southern Indiana for over 25 years. Local ownership and independent operations, allow KORT clinicians to work one-on-one with patients to regain strength, increase flexibility, improve mobility, and reduce pain without drugs or surgery. Selected as a "Best Places to Work in Kentucky" for nine consecutive years, and with over 40 locations, KORT has the most board certified Orthopedic Specialists and Vestibular Rehabilitation specialists than any other provider in the region. KORT's certified athletic trainers provide sports medicine services to more than 30 high schools and colleges in Kentucky & Southern Indiana.
###