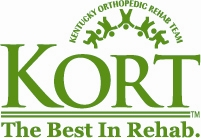 Dry Needling, a unique treatment method used to help alleviate painful musculoskeletal conditions
Louisville, Kentucky (PRWEB) November 22, 2014
Recently, four KORT physical therapists became certified in dry needling, a unique treatment method used to help alleviate painful musculoskeletal conditions. Matt Leach, KORT Fern Creek; Brandon Fowler, KORT St. Matthews; Liz Ellis, KORT Richmond; and Jennifer Hayden, KORT Bardstown earned this professional certification from the Dry Needling Institute, American Academy of Manipulative Therapy, making KORT the provider with the most certified dry needling therapists in the area.
Dry needling is not acupuncture, but a modern, science-based treatment method for musculoskeletal pain. It has been effective in treating a number of conditions including tennis elbow, carpal tunnel syndrome, frozen shoulder, back pain, whiplash, plantar fasciitis, headaches, knee pain, shin splints, TMJ and can even be used to treat post surgical hypertrophic or adhered scar tissue.
According to KORT physical therapist Dr. Chad Garvey PT, DPT, OCS, FAAOMPT, dry needling will often target active trigger points in muscles, along with other soft tissues. "Trigger points are taut, banded, irritable spots within skeletal muscle that produce the patient's "familiar" pain when they are compressed. These trigger points will often cause pain referral to other adjacent areas -- for example, a trigger point on the back of the shoulder blade, when compressed, may reproduce pain in the front of the shoulder or down the arm," he said.
Dry Needling Treatment
During treatment with dry needling, the specially trained physical therapist inserts a flexible, thin filament needle directly into the painful trigger point said Garvey.
"Patients can feel a variety of sensations, including a deep aching or cramping sensation, and often will experience a localized muscle 'twitch' sensation. As well, patients can sometimes experience a euphoric feeling during and afterwards, and typically will notice an immediate reduction in pain and improvement in motion," said Garvey.
According to Garvey, dry needling promotes healing in the affected painful areas by improving muscle tension and quieting electrical activity within the trigger points, thereby allowing a person to move and participate better in the activities that had previously been painful.
The American Physical Therapy Association and the Kentucky Physical Therapy Association support the use of dry needling in the hands of trained and licensed physical therapist. The procedure is covered by health insurance just as any other manual therapy technique performed by a physical therapist.
Twelve KORT locations including KORT Downtown, Fern Creek, Old Brownsboro Crossing, St. Matthews, Crestwood, Bardstown, Richmond, Springfield, Winchester, Beaumont, Bryan Station and Tates Creek offer this treatment. For complete addresses, contact information and to schedule a consultation, please visit http://www.kort.com
Most health insurance plans now allow patients to seek physical therapy treatment directly without a physician referral.
Kentucky Orthopedic Rehab Team (KORT) has been specializing in outpatient physical and occupational therapy in Kentucky and Southern Indiana for over 25 years. Local ownership and independent operations, allow KORT clinicians to work one-on-one with patients to regain strength, increase flexibility, improve mobility, and reduce pain without drugs or surgery. Selected as a "Best Places to Work in Kentucky" for ten consecutive years, and with over 40 locations, KORT has the most board certified Orthopedic Specialists and Vestibular Rehabilitation specialists than any other provider in the region. KORT's certified athletic trainers provide sports medicine services to more than 30 high schools and colleges in Kentucky & Southern Indiana.
###