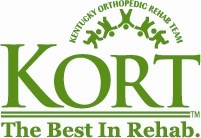 This system helps us test student athletes and how well they move.
Louisville, Kentucky (PRWEB) August 15, 2013
KORT, the largest physical therapy and sports medicine provider in Kentucky, is now the largest certified FMS provider in the state helping student athletes stay in the game and avoid injury through a specialized movement and screening system -- Functional Movement Screen (FMS).
According to Kristen Pollock, ATC with KORT, FMS tests an athlete's fundamental movements and identifies deficiencies or problem areas that if not addressed, result in increased risk of sports injuries.
"This system helps us test student athletes and how well they move. We put them through seven basic movement patterns that are key to physical performance. Based on their score, we can determine if they are at risk for injury. Athletic trainers and physical therapists can then work with athletes on these problem areas and better prevent these injuries from occurring," said Pollock.
FMS generates a baseline score which helps track the athlete's progress as he or she improves their movement and corrects the problem, said Pollock. Athletes will experience greater fitness and improved performance by correcting their movement problems which will help them with their sport, said Pollock.
In July, KORT held an FMS screening at Central High School in Louisville for more than 30 female basketball and volleyball players. According to Pollock nearly 20 had scores indicating they were at risk for injury.
"They had core strength and stability issues, which is fairly common in young female athletes. I'm working with those students who didn't perform well and giving them corrective exercises, so they'll be better prepared once the season starts," said Pollock.
All KORT clinics throughout Kentucky and Southern Indiana offer FMS. To find out if FMS is right for you, or to schedule a screening, visit http://www.kort.com or call 1-800-645 KORT (5678) to be put in touch with a clinic near you.
Most health insurance plans now allow patients to seek physical therapy treatment directly without a physician referral.
Kentucky Orthopedic Rehab Team (KORT) has been specializing in outpatient physical and occupational therapy in Kentucky and Southern Indiana for over 25 years. Local ownership and independent operations, allow KORT clinicians to work one-on-one with patients to regain strength, increase flexibility, improve mobility, and reduce pain without drugs or surgery. Selected as a "Best Places to Work in Kentucky" for nine consecutive years, and with over 40 locations, KORT has the most board certified Orthopedic Specialists and Vestibular Rehabilitation specialists than any other provider in the region. KORT's certified athletic trainers provide sports medicine services to more than 30 high schools and colleges in Kentucky & Southern Indiana.
###