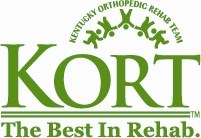 This unique system measures injury risk just as you would measure blood pressure. It's that simple.
Louisville, Kentucky (PRWEB) October 09, 2013
Whether you're a professional athlete or a weekend warrior, no one wants to be sidelined with an injury. KORT physical therapists are now helping athletes of all skill levels identify deficiencies or problem areas that if not addressed, can result in injury.
Functional Movement Screen (FMS) tests and evaluates an athlete's fundamental movements, essential to athletic performance, helping determine important limitations.
"This unique system measures injury risk just as you would measure blood pressure. It's that simple. There are seven basic performance tests including hurdle step, trunk stability push-up and deep squat. Athletes are evaluated and based on their score, we can determine if they are at higher risk for injury," said KORT physical therapist Dr. Chad Garvey PT, DPT, OCS, FAAOMPT.
Once these areas are identified, KORT therapists develop a personalized exercise program to target these problem areas and strengthen muscle groups to lower injury risk.
"As physical therapists our goal is to get our patients healthy and back to the activities they enjoy. Patient education is a large part of what we do to help patients recover and learn how to prevent further injury. FMS allows us to go one step further and identify potential injuries before they happen and provide exercise solutions," said Dr. Chad Garvey PT, DPT, OCS, FAAOMPT.
During October all KORT clinics throughout Kentucky and Southern Indiana will offer Functional Movement Screens for $40. Price includes:

FMS screen with KORT athletic trainer or physical therapist
Review of test results
Customized take-home exercise program and video demonstrations to address your problem areas
Demonstration of corrective exercises
Free retest in four weeks to measure changes
To find out if FMS is right for you, or to schedule a screening, visit http://www.kort.com or call 1-800-645 KORT (5678) to be put in touch with a clinic near you.
Most health insurance plans now allow patients to seek physical therapy treatment directly without a physician referral.
Kentucky Orthopedic Rehab Team (KORT) has been specializing in outpatient physical and occupational therapy in Kentucky and Southern Indiana for over 25 years. Local ownership and independent operations, allow KORT clinicians to work one-on-one with patients to regain strength, increase flexibility, improve mobility, and reduce pain without drugs or surgery. Selected as a "Best Places to Work in Kentucky" for nine consecutive years, and with over 40 locations, KORT has the most board certified Orthopedic Specialists and Vestibular Rehabilitation specialists than any other provider in the region. KORT's certified athletic trainers provide sports medicine services to more than 30 high schools and colleges in Kentucky & Southern Indiana.
###