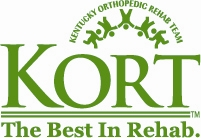 The FMS helps to expose deficiencies and problems in movement in the upper body, lower body and trunk.
Lexington, Kentucky (PRWEB) June 30, 2014
Anyone who plays a sport or exercises does not need a crystal ball to tell them that injuries are possible. Using the Functional Movement Screen (FMS) tests, physical therapists at KORT Physical Therapy can look into a patient's future and see an injury before it happens.
"The FMS is a 7 component grading system that looks at movement patterns that are both common to daily life and sport/recreation. By screening the patterns, the FMS helps to expose deficiencies and problems in movement in the upper body, lower body and trunk," said KORT Chevy Chase Clinic Director Dr. Stephen Karam, PT, DPT. "Once these movement limitations and asymmetries are discovered, we can provide patients with corrective exercises."
According to Karam, these corrective exercises are designed specifically to address each patient's unique problems and movement limitations.
"Using the original FMS score as a baseline, patients are re-tested after a few weeks of corrective training to track progress. Ideally, at this time their functional movement patterns will significantly improved," said Karam.
The FMS may also be used to assess potential risk for injury, said Karam. Research has shown that if the individual receives a score of 14 or less out of 21, then they are at an increased risk for injury. If the person has a score of 15 or greater, they are at no greater risk to sustain an injury than the next person, he said.
"As a healthcare professional, my goal is to help patients reach their goals safely and have a fun time getting it done. KORT is the largest FMS provider in the state with more certified FMS professionals that any other provider, so patients can feel comfortable knowing they're in well trained hands," said Karam.
To find out if FMS is right for you, or to schedule a screening, visit http://www.kort.com or call 1-800-645 KORT (5678) to be put in touch with a clinic near you.
Most health insurance plans now allow patients to seek physical therapy treatment directly without a physician referral.
Kentucky Orthopedic Rehab Team (KORT) has been specializing in outpatient physical and occupational therapy in Kentucky and Southern Indiana for over 25 years. Local ownership and independent operations, allow KORT clinicians to work one-on-one with patients to regain strength, increase flexibility, improve mobility, and reduce pain without drugs or surgery. Selected as a "Best Places to Work in Kentucky" for 10 consecutive years, and with over 40 locations, KORT has the most board certified Orthopedic Specialists and Vestibular Rehabilitation specialists than any other provider in the region. KORT's certified athletic trainers provide sports medicine services to more than 30 high schools and colleges in Kentucky & Southern Indiana.
###