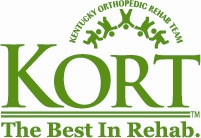 There are multiple causes of cervicogenic headache, many of which can be treated conservatively with good results.
Louisville, Kentucky (PRWEB) March 26, 2014
Doctors say persistent headaches are one of the most frequent of all patient complaints. They can be a painful and debilitation condition for many patients. Common causes of headache include stress, dehydration, and trauma to the head region. However, according to KORT physical therapist Emily Nicklies, PT, DPT, one often overlooked source is the neck, or cervical spine.
"Structures in the neck, which include cervical facet joints (spinal joints), muscles, and nerves, can cause pain in the head. Problems involving these parts of the spine can cause pain at the neck or into the head, creating a cervicogenic headache," said Nicklies.
Cervicogenic headache affects women more often than men, said Nicklies. The likelihood of this type of headache increases with age and after trauma to the neck/head, such as with concussion or whiplash injury, she said. Weakness of deep neck muscles and poor posture can also increase the risk for cervicogenic headache, she said.
According to Nicklies, patients with cervicogenic headaches often experience:

Limited range of motion (ROM) into the cervical spine
Ipislateral (same sided) neck, shoulder, or arm pain
Moderate pain, usually non-throbbing
Pain with neck movement
"There are multiple causes of cervicogenic headache, many of which can be treated conservatively with good results. Physicians and physical therapists can help to diagnose cervicogenic headache by feeling muscles and joints of the neck and looking at neck range of motion and posture," said Nicklies.
According to Nicklies, there are many ways Physical Therapists treat cervicogenic headache:

Manual therapy techniques (hands on) to the cervical and even thoracic spine (upper back) to improve the movement of the neck and surrounding muscles.
Exercise to strengthen the deep neck muscles to help support the neck during activity.
Education on work/home body postures to reduce headaches in the future.
Modalities of cervical traction and electrical stimulation to help reduce pain and improve neck function.
"Patients may use medication along with physical therapy treatment to help with pain and possible inflammation," said Nicklies. "There are many causes of headaches, which is why it is important that patients explain their symptoms to healthcare providers to make sure areas such as the neck are not overlooked."
Kentucky Orthopedic Rehab Team (KORT) has been specializing in outpatient physical and occupational therapy in Kentucky and Southern Indiana for over 25 years. Local ownership and independent operations, allow KORT clinicians to work one-on-one with patients to regain strength, increase flexibility, improve mobility, and reduce pain without drugs or surgery. Selected as a "Best Places to Work in Kentucky" for ten consecutive years, and with over 40 locations, KORT has the most board certified Orthopedic Specialists and Vestibular Rehabilitation specialists than any other provider in the region. KORT's certified athletic trainers provide sports medicine services to more than 30 high schools and colleges in Kentucky & Southern Indiana.
###