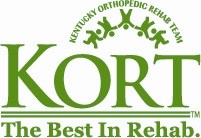 By treating the hips, trunk and foot, you solve the deficiencies that were creating the knee problem.
Louisville, KY (PRWEB) December 19, 2013
Dr. Josh Bixler, KORT Physical Therapist, says "when you're having pain in your knee you assume your knee is the problem; however, even though your knee may be experiencing the pain, it may not be the cause."
He says by taking a careful look at the entire body, how it moves and assessing any deficiencies, physical therapists can better pinpoint the true cause of a patient's pain and provide treatments to alleviate it.
"A runner's pain in the right knee may actually be due to other issues such as a left foot, which lacks the motion you need to move, and weak hips and trunk. By treating the hips, trunk and foot, you solve the deficiencies that were creating the knee problem," said Bixler.
This approach is an example of regional interdependence or the theory that impairments above or below the source of pain may actually be causing it, he said. It is important for physical therapists to look at the whole body and determine where the real problem lies in order to develop an appropriate treatment intervention, said Bixler.
"The regional interdependence approach came about due to the need for a better method to explain and treating musculoskeletal disorders. As we have learned more about the body and how it works we have adapted our treatment methods," he said.
According to Bixler, current case studies support the regional interdependence theory including thoracic spine (mid-back) treatments for cervical spine (neck) pain; thoracic spine, shoulder blade, rib and cervical spine treatments for pain in the shoulder; cervical spine treatment for elbow pain; hip interventions for lumbar spine (low back) pain; and hip, ankle and foot treatments for pain in the knee.
He says with the growth of the regional interdependence examination model, new assessment methods have been developed including the Selective Functional Movement Assessment (SFMA) which allows clinicians to assess movement patterns that helps them develop an appropriate treatment.
"As healthcare costs rise, patients will continue to expect care that produces meaningful outcomes in the shortest amount of time allowable. Early intervention and advanced treatment models such as regional interdependence will allow us to better, more efficiently treat our patients and get them back to their normal routines," said Bixler.
Most health insurance plans now allow patients to seek physical therapy treatment directly without a physician referral.
Kentucky Orthopedic Rehab Team (KORT) has been specializing in outpatient physical and occupational therapy in Kentucky and Southern Indiana for over 25 years. Local ownership and independent operations, allow KORT clinicians to work one-on-one with patients to regain strength, increase flexibility, improve mobility, and reduce pain without drugs or surgery. Selected as a "Best Places to Work in Kentucky" for nine consecutive years, and with over 40 locations, KORT has the most board certified Orthopedic Specialists and Vestibular Rehabilitation specialists than any other provider in the region. KORT's certified athletic trainers provide sports medicine services to more than 30 high schools and colleges in Kentucky & Southern Indiana.