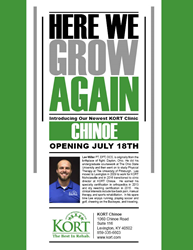 "As the healthcare needs continue to grow in Central Kentucky, be assured that KORT will be there to serve the needs of patients," said Miller.
Lexington, Kentucky (PRWEB) July 17, 2016
KORT, The Best in Rehab, will open its newest location at 1060 Chinoe Road in Lexington July 18. Clinic Director, Lee Miller, PT, DPT, OCS
will oversee all operations as well as treat patients
"At the new Chinoe clinic, we will strive to offer our patients the best physical therapy treatment in the area. We put our patients first making their experience as trouble-free as possible by providing accessible and immediate care in a very cost-effective manner. As the healthcare needs continue to grow in Central Kentucky, be assured that KORT will be there to serve the needs of patients," said Miller.
The Chinoe clinic will be open Monday through Wednesday, 10 am – 7 pm and Tuesday, Thursday, Friday 8:00 am – 5:00 pm. The clinic will provide the following services:

Orthopaedic Physical Therapy & Sports Medicine
Graston
Trigger Point Dry Needling
Industrial Rehab and Work Conditioning
Vestibular Rehab
TMJ/Headache treatment
Fall Prevention Program
Functional Movement Screens
Pain Management Program
Complimentary Consultations
About the Clinic Director
Dr. Lee Miller, PT, DPT, OCS joined KORT in 2009. Originally from Dayton, Ohio, he received his Doctorate in Physical Therapy from the University of Pittsburgh after completing a Bachelor of Science in Health Management from The Ohio State University. His clinical interests include sports rehabilitation and the treatment of low back pain. In his leisure time he enjoys music and playing golf, soccer, and softball.
For more information, visit http://www.kort.com or call 1-800-645 KORT (5678) to schedule an appointment or a complimentary consultation at the Chinoe clinic.
Most health insurance plans now allow patients to seek physical therapy treatment directly without a physician referral.
For over 28 years, Kentucky Orthopedic Rehab Team (KORT) has been the specialist in outpatient physical and occupational therapy in Kentucky and Southern Indiana. Local ownership and independent operations allow our therapists to work one-on-one with patients helping them to regain strength, increase flexibility, improve mobility, and reduce pain without medication or surgery. Selected as a "Best Places to Work in Kentucky" for 12 consecutive years, and with over 50 locations, KORT has the most board certified Orthopedic Specialists and Vestibular Rehabilitation specialists of any other provider in the Commonwealth. KORT's certified athletic trainers provide services to more than 30 high schools and colleges making us the largest sports medicine provider in the region. KORT has improved more lives by providing compassionate care to more people, in more communities, and in more locations than any other outpatient physical or occupational therapy provider in the state of Kentucky. Through our years of commitment to the physicians and patients of Kentuckiana, KORT is time tested and most trusted.
###