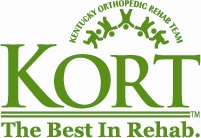 The surprising benefit was the improved communication and trust I've developed with my patients. By establishing this connection, I'm getting more detailed histories and life stories that lead me to improved PT diagnoses and treatments
(PRWEB) January 24, 2015
Recently, Steven Hnat, PT, DPT, KORT New Albany, Elliot Mattingly, PT, DPT, CDSS, KORT Bardstown, Mark Neal, PT, DPT, Cert DN KORT Bryan Station (Lexington, KY), and Julie Winkler Smith, PT, DPT, OCS KORT Tyler Center (Louisville, KY) graduated from the KORT Orthopaedic Residency program.
The program, which is accredited by the American Board of Physical Therapy Residency and Fellowship Education (ABPTRFE), is a year-long intensive clinical training and education experience that includes more than 160 hours of direct patient care within the physical therapy clinic, as well as rotations with radiologists, orthopedists, an orofacial pain clinic, and business and marketing professionals, said KORT Orthopaedic Residency Coordinator Troy L. Grubb, PT, DPT, OCS, ATC.
"This is a very demanding program which helps prepare residents for their future careers in physical therapy and to get their patients better, faster. We will continue to add new elements and evolve the program to ensure that it is the best residency experience in the country," said Grubb.
According to Grubb, residents spend 10-15 hours per week in self-study in addition to their full-time work schedule. They have ongoing assignments and weekly communication with residency faculty, complete mid-term and final written examinations, clinical practicum assessments, a community service project, and a case report project, said Grubb.
Program graduate Elliot Mattingly, PT, DPT, CDSS, says the program helped him fine tune and develop better interpersonal communication with patients and allowing him to treat them more effectively.
"The obvious benefit of furthering education with the KORT Residency Program was the sharpening of my manual therapy skills, exercise prescription, and critical thinking. The surprising benefit was the improved communication and trust I've developed with my patients. By establishing this connection, I'm getting more detailed histories and life stories that lead me to improved PT diagnoses and treatments. The residency showed me that it's extremely important to fine tune our skills as Physical Therapists, but not to forget that connecting with our patients can change everything," said Mattingly.
Program Adds Two Faculty Members
Lauran Dempsey PT, DPT, OCS, FAAOMPT, ATC and Rob Swayze, PT, DPT, OCS, COMT, FAAOMPT have been added to the KORT Orthopaedic Residency program faculty and will work closely with program residents sharing their own clinical expertise and experience.
Dempsey is the clinic director at KORT Shepherdsville and a native of Memphis, Tennessee. She earned her Athletic Training Certification in 2004 after attending the University of Tennessee and working with the Lady Vol's Soccer Team (2002-2003) and Lady Vol's Basketball Team (2003-2004). She completed her Doctorate of Physical Therapy in 2007 at Duke University. Dempsey completed three years of course work and supervised hours to earn the elite designation of Fellow of the American Association of Manual Physical Therapy in April of 2012. In 2013 she became an Orthopedic Clinical Specialist.
Swayze is the clinic director at KORT Hamburg clinic in Lexington. He has been practicing outpatient orthopedic therapy since 1995. He has a specialty certification in orthopedics and manual therapy (COMT) and is a board-certified orthopedic specialist (OCS). Swayze earned the elite designation of Fellow of the American Association of Manual Physical Therapy in 2014.
Class of 2015 Named
KORT recently announced this year's residency class which includes: Emily Batliner, PT, DPT, KORT New Albany, Lori Beth Lile, PT, DPT, KORT Fern Creek, Emily Maurer, PT, DPT, KORT Frankfort, Billie Rehberg, PT, DPT, KORT Shepherdsville, and Nick Weickel, PT, DPT, KORT Old Brownsboro Crossing (Louisville, KY).
Although the majority of the resident education is hands-on patient care and personal interaction with medical professionals, residents also make use of advanced technology to enhance their clinical experience, said Grubb. Students have access to the best in evidence-based clinical research and learning tools, he said. In addition, KORT collects important data on the student's performance and overall experience which will be used to revise and improve program elements in the future, said Grubb.
"KORT is dedicated to high quality, excellent clinical care for our patients and to developing future leaders in physical therapy. The Orthopaedic Residency program is designed to meet those goals by preparing residents to meet the ever-evolving demands of the profession," said Grubb.
Kentucky Orthopedic Rehab Team (KORT) has been specializing in outpatient physical and occupational therapy in Kentucky and Southern Indiana for over 25 years. Local management empowers KORT clinic directors and clinicians to work one-on-one with patients to regain strength, increase flexibility, improve mobility, and reduce pain without drugs or surgery. Selected as a "Best Places to Work in Kentucky" for 11 consecutive years, and with over 40 locations, KORT has the most board certified Orthopedic Specialists and Vestibular Rehabilitation specialists than any other provider in the region. KORT's certified athletic trainers provide sports medicine services to more than 30 high schools and colleges in Kentucky & Southern Indiana.
###