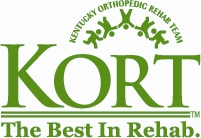 a pinched nerve occurs when too much pressure is applied to a nerve by surrounding tissues, such as bones, cartilage, muscles or tendons
Lexington, Kentucky (PRWEB) March 27, 2014
For sufferers of a pinched or compressed nerve, the pain can be excruciating, according to Dr. Stephen S. Karam, PT, DPT with KORT Physical Therapy in the Chevy Chase section of Lexington.
"The classic signs are a radiating pain. Radiating pain is really the best used term for it," Karam said. "But you can get numbness or tingling. Some would describe it as needles or a burning sensation in their hands, legs or feet."
Other signs of a pinched nerve include unexplained loss of strength in an extremity.
"Some more significant signs would be a noticeable weakness of some kind," he said. "The weakness could be the loss of grip strength; you're not able to hold on to a plate of food, or a jug of milk, or holding a pencil like you normally would."
For those suffering from a pinched nerve, simple things such as sleeping can even be a challenge.
"For a lot of people who have a pinched nerve or compressed nerve, they have difficulty sleeping or finding a position of comfort while they're trying to sleep," Karam said. "Sleep is often disturbed three, four or six hours a night."
According to Karam, a pinched nerve occurs when too much pressure is applied to a nerve by surrounding tissues, such as bones, cartilage, muscles or tendons.
The common areas pinched nerves can affect are the neck and lower back area, he said. But just about any part of the body is susceptible.
"They can be in your elbow, they can be in your shoulder, they can be in your hand and they can be in your legs, as well," Karam said. "Given the scope of all the places you can compress a nerve or have pressure on a nerve, it can be quite common."
While the term pinched nerve is often associated in professional athletics, Karam said it's more common in everyday life.
"We are more likely to see pinched or compressed nerves in the regular population more than we would in the athletic population," he said. "That could be a herniated disk in your spine somewhere, maybe in your lower back or neck. Maybe you're a person who works 40 to 45 hours a week at an office who has a computer typing job. That could be carpal tunnel syndrome, and that's a form of nerve compression."
When it comes to diagnosing a pinched nerve, Karam said gaining as much history on the patient as possible is a must.
"Try to get any history that possibly could have caused the current pain or symptoms," he said. "Try to narrow down the symptoms that they're having. Get the history first, than generally conservative physical therapy can help with pinched or compressed nerve cases."
Karam said treatments include joint mobilization, joint traction, strengthening, posture changes, posture mechanics and stability.
If a person is suffering at home, there are a few tricks they could try to deal with the pain, but Karam said don't expect a miracle home treatment.
"They can try heat or ice, but it's not going to change the amount of compression that there is. Generally, in most cases, it may give you a little bit of comfort or relief, but it's not going to fix the problem at all," he said.
In addition over-the-counter medications such as Ibuprofen and aspirin can help reduce inflammation around the nerve area, Karam said, but a person's best bet is to contact his or her health care professional and seek proper treatment.
"I tell all of my patients that I expect some form of relief within one to two weeks; hopefully it will be within the first or second visit," Karam said. "Patient compliance is certainly a factor."
Most insurance allows patients to schedule with the physical therapist of their choice directly.
Kentucky Orthopedic Rehab Team (KORT) has been specializing in outpatient physical and occupational therapy in Kentucky and Southern Indiana for over 26 years. Local ownership and independent operations, allow KORT clinicians to work one-on-one with patients to regain strength, increase flexibility, improve mobility, and reduce pain without drugs or surgery. Selected as a "Best Places to Work in Kentucky" for ten consecutive years, and with over 40 locations, KORT has the most board certified Orthopedic Specialists and Vestibular Rehabilitation specialists than any other provider in the region. KORT's certified athletic trainers provide sports medicine services to more than 30 high schools and colleges in Kentucky & Southern Indiana.
###