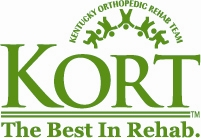 Recent evidence has shown physical therapy to be a very effective treatment strategy for shoulder pain, specifically hands on manual physical therapy
Louisville, Kentucky (PRWEB) September 30, 2014
Shoulder pain is one of the most common complaints. In fact treatment for those with persistent shoulder pain generates nearly ¾ of the total cost of all shoulder pain management. Studies report that 20-33% of all adults will experience shoulder pain, and of those only half will have recovered after 18 months. It has also been reported that 1 in 4 people with either neck or shoulder pain say their pain returned in less than a year.
"This is a real problem, not only physically, but financially as well," said KORT physical therapist Dr. Chad Garvey, PT, DPT, OCS, FAAOMPT. "No one wants to remain in pain for months on end."
According to Garvey, shoulder pain can involve a number of areas, with the most commonly cited being the rotator cuff and the labrum, some of the muscles and cartilage in the shoulder complex. He says, the neck and upper back can also play a role in shoulder pain, either partially or fully preventing a full recovery.
Identifying Shoulder Pain

Pain in the outside of the upper arm (known as the deltoid muscle) or in the shoulder blade
Shoulder pain that wakes the person up at night
Pain that is worse with activity and better with rest
Difficulty in raising the arm overhead due to pain or weakness
Treating Shoulder Pain
"Recent evidence has shown physical therapy to be a very effective treatment strategy for shoulder pain, specifically hands on manual physical therapy applied to the shoulder and shoulder blade, as well as the neck and upper back," said Garvey.
Ice, heat, and electrical stimulation, along with more modern treatments such as dry needling may also be used, he said. These treatments have been shown to improve the chance of full recovery from a shoulder injury and/or pain, and get you back to using your arm and doing the things that you love quickly and safely, said Garvey.
KORT physical therapists in clinics throughout Kentucky and Southern Indiana will provide a complimentary consultation to those suffering shoulder pain to help assess your condition. Visit http://www.kort.com or call 1-800-645 KORT (5678) to schedule an appointment.
Most health insurance plans now allow patients to seek physical therapy treatment directly without a physician referral.
Kentucky Orthopedic Rehab Team (KORT) has been specializing in outpatient physical and occupational therapy in Kentucky and Southern Indiana for over 25 years. Local ownership and independent operations, allow KORT clinicians to work one-on-one with patients to regain strength, increase flexibility, improve mobility, and reduce pain without drugs or surgery. Selected as a "Best Places to Work in Kentucky" for ten consecutive years, and with over 40 locations, KORT has the most board certified Orthopedic Specialists and Vestibular Rehabilitation specialists than any other provider in the region. KORT's certified athletic trainers provide sports medicine services to more than 30 high schools and colleges in Kentucky & Southern Indiana.
###