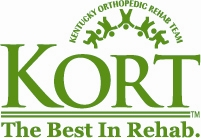 While a player can sustain a concussion wearing any type of helmet, the quality of the helmet can greatly reduce that risk.
Louisville, Kentucky (PRWEB) December 02, 2014
For more than 20 years, KORT has provided certified athletic trainers to area high schools and colleges. Now, in a joint venture with Norton Healthcare and Jefferson County Public Schools, KORT will provide additional certified athletic trainers. Hundreds of high school football players will have a reduced risk of concussion thanks to a grant from Norton Healthcare's James R. Petersdorf Fund. This grant will provide funding to Jefferson County Public Schools (JCPS) to upgrade football helmets, begin baseline concussion testing for athletes, and provide partial funding for three athletic trainers for area high schools.
Athletic Trainers On-Site Preventing Long-Term Injuries
Part of the grant provides funds that, when matched by KORT and JCPS, will provide three athletic trainers at Shawnee, Western and Fairdale high schools.
"We already have a partnership with Norton Sports Health and KORT that provides trainers at 10 high schools," said Jerry Wyman, JCPS director of activities and athletics. "By expanding this with support from Jefferson County Public Schools, we'll be able to better help keep our kids safe out on the field."
"Our athletic training & concussion management collaboration with JCPS and Norton Healthcare over the past 6 years has been a ground-breaking solution to protecting the student-athletes in this region and we look forward to expanding this reach to more schools and communities," said KORT CEO Jason Chambers.
Providing Better Helmets
"We learned recently that some of the helmets fell short of what we consider good protection," said Steven T. Hester, M.D., MBA, chief medical officer for Norton Healthcare. "We work closely with JCPS and so we wanted to find a way to make this situation better, and are pleased that we are able to upgrade the helmets and help improve the safety of our community's student athletes."
According to a rating system developed by researchers at Virginia Tech, approximately 26 percent of high school football helmets ranked two stars or less. Two stars represent "adequate" protection, one star is "marginal" and 0 stars are not recommended. Norton Healthcare will replace the one and two-star helmets with four-star helmets. A total of 235 helmets will be purchased.
"While a player can sustain a concussion wearing any type of helmet, the quality of the helmet can greatly reduce that risk," said Tad D. Seifert, M.D., director of the sports concussion program for Norton Healthcare. "The difference between a one- or two-star helmet and a higher-rated helmet is dramatic. It can cut head acceleration in half because it's better able to absorb shock."
Head acceleration is a major cause of brain injury in football. It occurs when a blow causes the skull to move forward and strike the brain, which had been stationary. The new helmets will last 10 years and will be reconditioned after each season.
Concussion Testing with ImPACT
To further protect athletes, Norton Sports Health will provide ImPACT testing for all football players in JCPS middle and high schools and all JCPS high school students who play high-impact sports. These sports are soccer, cheerleading, volleyball, basketball, wrestling, lacrosse, field hockey, baseball and softball. The number of students playing these sports is approximately 10,000.
ImPACT, which stands for Immediate Post-concussion Assessment and Cognitive Testing, is a computerized evaluation system that is similar to playing a video game.
"When ImPACT is given prior to an injury, we have a baseline analysis of the player's brain function," Dr. Seifert said. "If the player sustains an injury in which a concussion is suspected, the ImPACT test is given again and helps us assess the severity of the injury and create a plan for safe return to play."
"We know that any concussion is serious," said Wyman. "But this testing will allow us to further improve the care we can provide. We want to make sure that what we do is going to contribute to the long-term success of the student – on and off the field."
According to the Centers for Disease Control and Prevention, high school athletes take longer to heal from a concussion compared with college and pro athletes; they also experience greater severity of symptoms. And sending a player back on the field before healing is complete can be detrimental, if not deadly.
"A second hit to a concussed head can be a life-changing blow, affecting speech, memory and motor skills. It's similar to suffering a devastating stroke," Dr. Seifert said.
Expanded concussion education will also be offered for coaches, athletic trainers and parents, and include user-friendly symptom charts, posters and quick-reference pocket cards at all JCPS middle and high schools.
Working Together
"This is a shining example of what happens when community partners become actively invested in our children," said Donna Hargens, Ed.D., JCPS superintendent. "Stakeholder engagement is one of the tenants of our Strategic Plan Vision 2015, and we are grateful for Norton Healthcare's commitment to the safety of our students.
"This grant is the result of what a phenomenal partnership between JCPS and Norton Healthcare that has been driven by our joint desire to provide our student athletes with the best protection possible," said Wyman.
# # #
Kentucky Orthopedic Rehab Team (KORT) has been specializing in outpatient physical and occupational therapy in Kentucky and Southern Indiana for over 25 years. Local ownership and independent operations, allow KORT clinicians to work one-on-one with patients to regain strength, increase flexibility, improve mobility, and reduce pain without drugs or surgery. Selected as a "Best Places to Work in Kentucky" for ten consecutive years, and with over 40 locations, KORT has the most board certified Orthopedic Specialists and Vestibular Rehabilitation specialists than any other provider in the region. KORT's certified athletic trainers provide sports medicine services to more than 30 high schools and colleges in Kentucky & Southern Indiana.
# # #