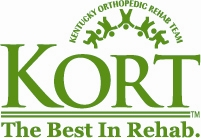 KORT is looking forward to growing the relationship with the USEF and providing them with outstanding care
Lexington, Kentucky (PRWEB) June 30, 2015
The United States Equestrian Federation (USEF) is pleased to announce a partnership with Kentucky Orthopedic Rehab Team (KORT) as it becomes the Official Physical and Occupational Therapists of the U.S. Eventing Team. KORT also provided the official onsite clinicians at the 2015 Rolex Kentucky Three-Day Event presented by Land Rover.
"The USEF is pleased to welcome the Kentucky Orthopedic Rehab Team as the Official Physical and Occupational Therapists of the U.S. Eventing Team," said USEF CEO Chris Welton. "As 'The Best in Rehab' to help our human athletes perform their best, KORT is a perfect partner and we look forward to its continued support of the USEF."
"The Kentucky Orthopedic Rehab Team did an incredible job of working on me each day for the Rolex Kentucky Three-Day Event presented by Land Rover; everything from manual therapy to dry needling to manipulation," said Phillip Dutton, winner of the Rolex/USEF CCI4* Eventing National Championship. "It made a huge difference."
"KORT is delighted to be the Official Physical and Occupational Therapy Provider for the US Equestrian Federation," Doug Means, KORT Sports Medicine Director adds. "KORT is able to provide valuable services to the USEF such as coverage for the Rolex games and other local events, developing evidence-based care programs, and providing riders with access to Impact concussion baseline testing and Functional Movement Screening. KORT is looking forward to growing the relationship with the USEF and providing them with the same kind of outstanding care that makes KORT, The BEST in Rehab."
For over 27 years, Kentucky Orthopedic Rehab Team (KORT) has been the specialist in outpatient physical and occupational therapy in Kentucky and Southern Indiana. Local ownership and independent operations allow our therapists to work one-on-one with patients helping them to regain strength, increase flexibility, improve mobility, and reduce pain without medication or surgery. Selected as a "Best Places to Work in Kentucky" for 11 consecutive years, and with over 40 locations, KORT has the most board certified Orthopedic Specialists and Vestibular Rehabilitation specialists of any other provider in the Commonwealth. KORT's certified athletic trainers provide services to more than 30 high schools and colleges making us the largest sports medicine provider in the region. KORT has improved more lives by providing compassionate care to more people, in more communities, and in more locations than any other outpatient physical or occupational therapy provider in the state of Kentucky. Through our years of commitment to the physicians and patients of Kentuckiana, KORT is time tested and most trusted.