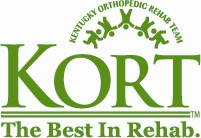 The clinic provides a comprehensive approach to our patients overall health
Louisville, Kentucky (PRWEB) May 16, 2014
Recently, KORT Physical Therapy opened a new wellness clinic at 9424 Brownsboro Road across from the Paddock Plaza Shopping Center. The new clinic offers a variety of wellness programs including licensed massage therapy, customized personal training, physical therapy, and the innovative Personalized Orthopedic Weight Reduction (POWR) program, a medically-based program that helps people achieve and maintain their healthiest weight through a customized dietary and fitness program monitored by a trained therapist.
"The clinic provides a comprehensive approach to our patients overall health. Our staff is dedicated to improving our community's way of life and helping stop the spread of obesity. The POWR program allows a licensed physical therapist to guide patients through a lifestyle change program via dietary and exercise support leading them to a more active and healthy way of life," said Dr. Emily Green, PT, DPT, OCS clinic director, KORT Summit Wellness and PT, and program director, KORT POWR Program.
According to Green, "The deep tissue, trigger point massage therapy restores muscles, rejuvenates joints and helps prevent future injuries. The personal training program is customized for each client by a certified personal trainer that helps to improve strength, endurance, balance, flexibility, range of motion and stamina."
"Regardless of your age or current physical condition, everyone can benefit from the programs at KORT Wellness. Our certified staff is here to help you build a better life," said Green.
The programs offered at the KORT Summit Wellness clinic are covered by most insurance plans and cash-based packages are available. For more information about KORT or any of the programs offered, visit http://www.kort.com, call 502- 420-0823 for an appointment, or stop by the clinic at 9424 Brownsboro Road, Louisville, KY 40214.
About Dr. Green
Dr. Emily Green PT, DPT, OCS earned a Doctorate of Physical Therapy and a Bachelor of Science degree in Health Sciences from the University of Kentucky. As the program director of the KORT Personalized Orthopedic Weight Reduction (POWR) Program, a healthy lifestyle program aimed at addressing the national obesity epidemic, Dr. Green is helping shape a better future for overweight patients. She is committed to treating orthopedic conditions and improving overall health and wellness.
Kentucky Orthopedic Rehab Team (KORT) has been specializing in outpatient physical and occupational therapy in Kentucky and Southern Indiana for over 25 years. Local ownership and independent operations allow KORT clinicians to work one-on-one with patients to regain strength, increase flexibility, improve mobility, and reduce pain without drugs or surgery. Selected as a "Best Places to Work in Kentucky" for ten consecutive years, and with over 40 locations, KORT has the most board certified Orthopedic Specialists and Vestibular Rehabilitation specialists than any other provider in the region. KORT's certified athletic trainers provide sports medicine services to more than 30 high schools and colleges in Kentucky & Southern Indiana.