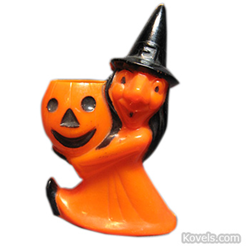 Cleveland, OH (PRWEB) October 22, 2014
Decorating the house for Halloween has grown to be second only to decorating for Christmas. Halloween items date back to the early 1900s – decorations and costumes made from crepe paper, candy containers and jack-o-lanterns from Germany, painted tin noisemakers, and paper lanterns. These vintage Halloween collectibles are scarce because they were used and thrown out. They sell for high prices. But collectors who love Halloween should be on the prowl for decorations with fun graphics that will be future collectibles.
Here are five things (spookier than spiders) to look for now that will be sought-for and pricey collectibles in 25 years:
1. Special holiday bottles and cans. Soft drinks are sold in spooky containers. Crush soda has three new Halloween flavors, Gruesome Grape, Spooky Strawberry and Orange Ogre, that come in limited edition plastic bottles with scary faces, perfect for Halloween parties. And Jones Soda is bringing back limited edition Halloween flavors, including Candy Corn, Red Licorice, Caramel Apple, and Blood Orange in cans with portraits of Frankenstein, a zombie, a vampire and a werewolf. Enjoy the soda – it's a special occasion – keep the containers.
2. Plastic "stuff" – colorful 1950s and '60s candy containers, figures, and jack-o-lanterns are inexpensive and easy to find. Look for hard plastic holiday-themed candy containers made by the E. Rosen Co. of Rhode Island, also known as Rosbro Plastics and the School House Candy Co. The candy containers are no longer made, but they're charming and plentiful. Keep an eye out for contemporary plastic decorations with good design. Enjoy the candy – keep the containers.
3. Zombies and vampires. There was a time when Halloween wasn't about REALLY scary things like zombies and gruesome headless monsters. But tombstones and skeletons aren't spooky enough anymore – since zombies and vampires became popular TV and movie creatures. Look for plastic, rubber, or resin decorations like the zombie-hand candleholder. Scare guests now – save for later.
4.Jewelry. Charm bracelets with pumpkins, bats, and black cats; jointed skeleton earrings decorated with rhinestones, and spider rings of all kinds are fun and easy to find. Wear now – and save for later.
5. Motion- or voice-activated figures that light up or emit scary sounds and music. Have you ever jumped out of your skin when a fake witch screamed, crept, or crouched when you walked past? Life-sized pumpkin men, witches, vampires, black cats – even just body parts like crawly hands – can be found in any degree of "fun scary." Startle neighbors now – and save for later.
And save the paper or plastic masks, costumes, treat bags, and dolls as low-priced future collectibles to enjoy each October.
Terry Kovel is America's foremost authority on antiques and collectibles. She is the well-known columnist and author of more than 100 books on antiques and collecting. With her daughter, Kim Kovel, she co-authors the best-selling annual "Kovels Antiques and Collectibles Price Guide." Both Terry and Kim are collectors. They will discuss antiques and collectibles topics with accredited media. Photographs are available. Contact pr(at)kovels.com.
About Kovels.com
Kovels.com, created by Terry Kovel and Kim Kovel, provides collectors and researchers with up-to-date and accurate information on antiques and collectibles. Kovels' Antiques was founded in 1953 by Terry Kovel and her late husband, Ralph. Since then, Kovels' has published some of America's most popular books and articles about antiques, including the best-selling "Kovels' Antiques and Collectibles Price Guide." The brand new 2015 edition is now available in bookstores and in the online shop at Kovels.com. Ralph and Terry were featured in three TV series about antiques and collectibles, The most recent was "Flea Market Finds with the Kovels" on the HGTV cable channel. The Kovels' website, online since 1998, offers 900,000 free prices and includes a free weekly email, "Kovels Komments." It give readers a bird's-eye view of the market through the latest news, auction reports, a Marks Dictionary, readers' questions with Kovels' answers and much more.
Contact Information:
Liz Lillis
216.752.2252