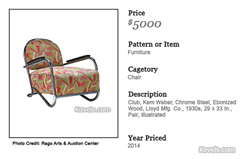 Cleveland, OH (PRWEB) January 22, 2015
Kovels.com has added more than 35,000 prices and 2,500 new photos of priced antiques to its free online price guide. All prices are from ACTUAL PRICES at shops, shows, flea markets and auctions, and from magazines, newspapers, online sales, dealers and other sources. Prices are double-checked for accuracy by our experts using our own AccuValue™ system. The Kovels.com online price guide is organized into more than 750 categories that represent the most popular collecting interests. Category descriptions include information on: makers, history, age and marks, giving you more information to accurately price and value your collectible, identify market trends and serve as a guide for buying, selling, appraising or settling an inheritance.
With two generations of Kovels editing the content, it now lists pieces made as recently as 1990 that reflect the current interest in not only midcentury modern furniture, but also costume jewelry, toys, studio pottery and Italian art glass in the "newest style" made since 1950. Asian antiques are still in demand, but prices were lower for all but top-quality pieces. Several important collections sold at auction—toy cars, advertising, art glass, Shaker furniture and bottles—that offered rare pieces in close to mint condition, and Kovels' latest price additions include many of their descriptions and prices.
You can find almost anything among the Kovels' added prices and pictures. A leather pirate's arm with a Captain Hook's hook made about 1855 sold for $944 and a prop horse head used in 1972 movie "The Godfather," $604. There was even a uniform of a prison road gang ($219), a cut glass toupee stand from the American Brilliant period ($590), and a vampire killing kit ($14,800). The highest priced piece is a Babe Ruth baseball cap that sold for $239,000. The lowest price ($1) was for a Harker Pottery saucer. A button is the smallest item—it looks like plastic dice cube, 3/8 of an inch square ($5). And the largest item is a 192- by 112-inch Eastlake-style cherry backbar with mirrors, doors and drawers ($11,750).
Terry Kovel is America's foremost authority on antiques and collectibles. She is a well-known columnist and author of more than 100 books on antiques and collecting. With her daughter, Kim Kovel, she co-authors the best-selling annual "Kovels' Antiques and Collectibles Price Guide." Both Terry and Kim are collectors. They will discuss antiques and collectibles topics with accredited media. Photographs are available. Contact pr(at)kovels.com.
About Kovels.com
Kovels.com, created by Terry Kovel and Kim Kovel, provides collectors and researchers with up-to-date and accurate information on antiques and collectibles. Kovels' Antiques was founded in 1953 by Terry Kovel and her late husband, Ralph. Since then, Kovels' Antiques has published some of America's most popular books and articles about antiques, including the best-selling "Kovels' Antiques and Collectibles Price Guide," now in its 46th edition. The Kovels' website, online since 1998, offers more than 1 million free prices and includes a free weekly email, "Kovels Komments." It give readers a bird's-eye view of the market through the latest news, auction reports, a Marks Dictionary, readers' questions with Kovels' answers and much more.
Contact Information:
Liz Lillis
216.752.2252