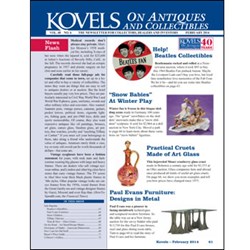 Cleveland, OH (PRWEB) February 06, 2014
Beatlemania rocked and rolled at a Pennsylvania auction, where a 1964 Beatles Fan pinback button sold for $95. Other rare collectibles featuring the Fab Four are pictured with prices in "Kovels on Antiques and Collectibles" February 2014 newsletter. Collectors love Snow Babies--they're winter fun frozen in bisque with grout shavings that imitate "snow." Some of the best topped $1,000 at a recent doll auction in New York City. Examples are pictured in the February issue. And learn about furniture designer Paul Evans, a pioneer in fusing metalwork technology and sculptural modern furniture. See pictures, descriptions and prices of Evans tables and cabinets that sold at a New Jersey auction, where prices peaked at $37,500 for a "patchwork" cabinet made of copper, bronze, pewter and enameled steel.
Kovels' February newsletter also reports on early Tiffany silver flatware. Nearly 30 classic pieces of Tiffany flatware designed in the 19th century sold at a New Orleans auction, where a two-piece fish set sold for $492 and a sauce ladle went for $184. And "Kovels' on Antiques and Collectibles" newsletter continues to celebrate its 40th year of publication with a sale report featuring colorful art glass cruets and how their prices have changed since 1975. New Uses for Old Stuff pictures jewelry made from vintage silver forks and spoons. February's Dictionary of Marks lists American makers of dinnerware. The popular illustrated Collector's Gallery has answers to readers' questions about an Indian motorcycle advertising sign, Felix the Cat doll, Jacobean style chair, and a jardiniere and pedestal stand. The Buyer's Price Guide has current prices of 50 antiques and collectibles and also looks back to its counterpart from February 1975.
"Kovels on Antiques and Collectibles" is available as a print subscription or as a digital version that is part of the Kovels.com Premium subscription.
Terry Kovel is America's foremost authority on antiques and collectibles. She is the well-known columnist and author of more than 100 books on antiques and collecting. With her daughter, Kim Kovel, she co-authors the best-selling annual "Kovels' Antiques and Collectibles Price Guide." They will discuss antiques and collectibles topics with accredited media. Photographs are available. Contact pr(at)kovels.com.
About Kovels.com
Kovels.com, created by Terry Kovel and Kim Kovel, provides collectors and researchers with up-to-date and accurate information on antiques and collectibles. Kovels' Antiques was founded in 1953 by Terry Kovel and her late husband, Ralph. Since then, Kovels' Antiques has published some of America's most popular books and articles about antiques, including the best-selling "Kovels' Antiques and Collectibles Price Guide," now in its 46th edition. The Kovels' website, online since 1998, offers 900,000 free prices, and includes a free weekly email, "Kovels Komments." Kovels.com gives readers a bird's-eye view of the market through the latest news, auction reports, a Marks Dictionary, readers' questions with Kovels' answers and much more.
Contact Information:
Liz Lillis
216.752.2252
Pr(at)kovels(dot)com