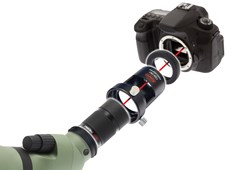 Torrance, California (PRWEB) January 22, 2014
Kowa proudly announces the release of two additional digiscoping adapters, designed to improve ease of use and compatibility between multiple Kowa products. The TSN-PA7 Photo Adapter delivers an alternate option to the TSN-PZ Photo Attachment to transform your scope into a high-powered telephoto lens. Designed to join Kowa's lineup of Phone Adapters, the TSN-GA4S Samsung Galaxy S4 Adapter allows a new brand of phone users to connect their Kowa product to their phone.
"The previous D-SLR option for the TSN-880 and TSN-770 Series Scopes did not allow for digiscoping with an eyepiece," says Sales Manager Miles Takahashi, "the TSN-PA7 is a great option for our TSN-880 and TSN-770 scope users who are looking to fill that void."
The TSN-PA7 works seamlessly with Kowa's TE-10Z 20-60x Zoom and TE-11WZ 25-60x PROMINAR Wide Zoom eyepieces. When attached to Kowa's TSN-880 or TSN-770 Series, the TSN-PA7 can achieve focal lengths up to 2750mm. In addition to the TSN-PA7, Kowa Optimed also released a new phone adapter that will allow users to connect their Samsung Galaxy S4 to their scope or binocular.
"We want digiscoping to be easy and achievable for all of our customers," says Sales Manager Randy Miller. "We have long provided iPhone adapters to our customers, so it only made sense that we should do the same for Samsung Galaxy users as well."
Like the iPhone adapters, the TSN-GA4S Samsung Galaxy S4 Adapter comes with 55mm and 41mm adapter rings as a standard package (compatible with the TE-11WZ, TE-10Z and TE-17W eyepieces, BD42-XD, BD32, YF and SV Series binoculars). Additional 43mm, 45mm, and 50mm adapter rings are available for purchase to ensure compatibility with the entire Kowa lineup of binoculars and spotting scopes.
The TSN-PA7 Photo Adapter and TSN-GA4S are both available now. Please visit our website at http://www.kowa-usa.com or contact customerservice(at)kowa(dot)com for more information.
About Kowa Optimed - Kowa Optimed is part of Kowa Company Limited, one of the largest privately own companies in Japan. Founded in 1894, Kowa produces a wide variety of products in a number of industries, including healthcare, industrial, and energy conservation. Part of the Electronics and Optics division of Kowa Company Limited, the Kowa Optimed branch was established in Torrance, CA to provide high quality sporting optics, lenses, and medical products to North and South America. Since its introduction to the American markets in 1980, Kowa Optimed has become a brand known to the Western Hemisphere for their high quality, precision optics able to perform in even the most extreme conditions. The company's focus on leading edge technology, flexible machine technology, application software, and traditional optical technology produces a wide range of products designed to enhance the visual experience and provide vision solutions and diagnostics for all users.
Kowa Optimed offers an extensive line of binoculars, spotting scopes, telephoto lenses, and digiscoping equipment that excels in even the most rugged conditions. Kowa scopes and binoculars are available in a wide range of magnifications and sizes thus ensuring there is a Kowa product perfectly designed for every user's needs during any kind of outdoor activity. Our dedication to quality makes Kowa Sporting Optics a beloved brand from birders to hunters to stargazers.