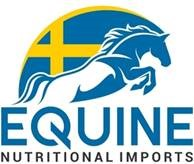 WELLINGTON, Fla. (PRWEB) December 04, 2019
Equine Nutritional Imports is pleased to announce that KRAFFT, the leading horse feed in Sweden for more than 30 years, is now available in the United States.
KRAFFT is owned by a cooperative of 29,000 farmers and is Sweden's best-selling feed to both professional and leisure riders. KRAFFT has worked relentlessly for more than 30 years to provide the best possible quality of feed, using natural ingredients from sustainable farms. All of the products have been specially developed to be suitable for the horse's digestive system, and are designed to keep the horse healthy and well-balanced, so that it can perform at its very best.
Equine Nutritional Imports, based in Wellington, Florida, the horse capital of the United States and home to the Winter Equestrian Festival, is thrilled with this expansion, and its role as the U.S. importer/distributor.
A launch event featuring KRAFFT Premium Feed, company representatives and horse nutritional advice, will take place on Friday, December 13, 2019 from 9:00 a.m. to 2:00 p.m. at Grand Prix Feed & Supply, in Wellington, Florida.
To learn more about KRAFFT's products and how you can obtain the premium feed for your horses or serve as an authorized U.S. retailer, contact David Johansson at david@equinenutritional.com or call him direct at (954) 294-3960.