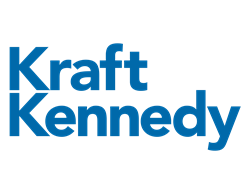 "It's been a great opportunity to be a part of Kraft Kennedy and I'm confident that it will continue to be the leader in the legal industry," said Kennedy.
New York, NY (PRWEB) December 13, 2013
Michael Kraft and Pete Kennedy have been steering the firm together for 25 years, growing it from a small start-up in the late eighties. Today Kraft Kennedy is the foremost technology and strategic consulting firm in the legal sphere as well as for professional service companies, including architectural, financial, and public relations firms.
Kraft Kennedy became a prominent technology consulting firm a few years after it was established following some innovative foresight.
"We were quickly able to identify early networking trends in the legal technology industry," Kennedy said. "PCs were the new phenomenon in the early nineties and we capitalized on it. We took the best hardware and software of the time and packaged them to address the needs of law firms."
Kennedy had over 21 years of experience at IBM, where he helped to develop the AS/400 minicomputer and led the Industry Application Specialists program, with which he sold industry-specific software solutions to businesses across the country. He combined this expertise with that of Kraft, a practicing lawyer, to create this niche technology firm. Providing similarly specialized solutions to law firms, Kraft Kennedy has become a thought leader in the industry, claiming most AmLaw 100 firms and much of the AmLaw 200 as clients.
"It is difficult when a founder decides to retire and leave the organization in which he placed so much of himself. Pete has been instrumental in our creation and growth, and in helping to make Kraft Kennedy the leading technology consulting and integration company in the country," said Kraft.
In the years since Kraft and Kennedy launched their brainchild over two decades ago, technology has made enormous leaps that have significantly impacted the way that people work and view productivity. Technology is now integral to the practice of law and much more complex than it has ever been before.
"Technology has moved out of the 'buy-it-and-forget-it phase' into something much more mission-critical for law firms and for business in general since Pete and I started," Kraft said. "Professionals rely on it on a day-to-day basis—for eDiscovery, document management, and knowledge management."
Kennedy's retirement marks a major milestone for Kraft Kennedy. In anticipation of his leaving, COO Jude Travers-Frazier, CTO Marcus Bluestein, and CFO Keith Kallen have transitioned into stronger leadership roles over the last two years, assisting Kraft with guiding the company into its next phase of growth. Kennedy will be working with the company over the next few months to ensure a smooth transition as he departs.
As it did with emerging innovations when the company was in its formative years, Kraft Kennedy is looking forward to spearheading the use of today's nascent technologies. The firm has come to the forefront of the legal arena by applying its technology and business expertise to the particular needs of the industry, and it continues to be forward-thinking.
"We are seeing the early debate now regarding the migration to a cloud environment," Kraft said. "'Cloud' means different things to different people. For law firms in particular, it means running a global, twenty-four-seven enterprise with technology that seamlessly spans multiple offices and is constantly available. Firms must balance the need to access applications and infrastructure to serve client needs with the requirement for security, governance, and compliance. We have always been able to understand and appreciate those requirements better than most vendors."
The strategy has been and will continue to be to enlist the highest caliber recruits for the organization and to prioritize client needs, says Kraft.
"Pete and I are very proud of how the organization has matured and of how we have been able to attract and retain quality people," he said. "Our focus has always been to treat customers the way that we want to be treated, with an emphasis on service and quality."
Kennedy is looking forward to spending time with several non-profit organizations as well as his grandchildren as he departs.
"It's been a great opportunity to be a part of Kraft Kennedy and I'm confident that it will continue to be the leader in the legal industry," said Kennedy.