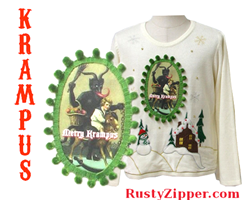 Krampus sweaters can be ordered with lights too.
Scotts Mills, OR (PRWEB) December 07, 2015
For shoppers looking for something a bit dark and truly unique to wear to an Ugly Christmas Sweater Party, RustyZipper.com offers "Krampus" Ugly Christmas Sweaters.
According to legend (and Wikipedia), Krampus accompanies Saint Nicholas during the Christmas season, warning and punishing bad children, in contrast to St. Nicholas, who gives gifts to good children. When the Krampus finds a particularly naughty child, it stuffs the child in its sack and carries the frightened child away to its lair, presumably to devour for its Christmas dinner.
RustyZipper.Com, launched in 1995 as the internet's first online vintage clothing store, has been selling the garish Christmas jumpers since the company's inception. In the last few years, however, they have seen a huge increase in demand due to the relatively new phenomenon of "Ugly Christmas Sweater Parties".
"While few Americans know about the legend of Krampus, we expect an increase in demand this year due to the upcoming release of the comedy-horror flim, "Krampus", says RustyZipper.com owner Jennifer Chadwick.
"I believe we were the first to offer Krampus styled Ugly Christmas Sweaters back in 2007", says Chadwick. Although her company has no affiliation with the "Krampus" film scheduled to be released this year, Chadwick anticipates strong demand for her company's "Krampus" and she expects the few hundred hand embellished "Krampus" Ugly Christmas Sweaters available this year to go fast. "Our Krampus sweaters can be ordered with lights too.", she adds.
According to Wikipedia, the film "Krampus" is an upcoming American Christmas comedy-horror film directed by Michael Dougherty and written by Dougherty, Todd Casey and Zach Shields. The film stars Adam Scott, Toni Collette, David Koechner, Allison Tolman, Conchata Ferrell, Emjay Anthony, Stefania Owen and Krista Stadler. The film is scheduled to be released on December 4, 2015, by Universal Pictures.
For more information about "Krampus", the film, visit:
https://www.facebook.com/thekrampusmovie/
For more information or to shop RustyZipper.com's "Krampus" Ugly Christmas Sweaters, visit:
http://www.rustyzipper.com/uglychristmassweaters/krampus/