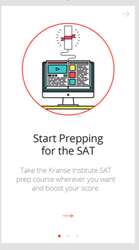 Kranse is a complete game changer in the SAT-prep market.
Las Vegas, NV (PRWEB) January 24, 2017
Kranse Institute, a pioneering education content developer for college test prep students, today announced it would be extending its revolutionary online, on-demand SAT-Prep course (as featured on ABC's Shark Tank) with a dedicated mobile app that makes interaction more compelling, convenient and rewarding.
"We all know that a good SAT score opens doors to great universities and scholarships," commented Steve King, head of business development at Kranse. "With today's students constantly online and connected to each other and beyond, it's hard to expect them to achieve great SAT test results if you don't appreciate the way they think, communicate and how they prioritize in this digital age," he added. "Our SAT-prep course was developed to appeal to their need to 'game' the system and how they digest bite-sized chunks of information as opposed to spending hours reviewing and memorizing. To date, we achieve an average SAT improvement score of 210 – well beyond industry averages….. but we knew we could do better"! "So we are very pleased to announce our new Kranse mobile app".
The Kranse app design objectives were very simple; to make it more convenient and easier for students to connect, engage and track their SAT prep progress and, to make their experience even more rewarding with contests and tips that appeal to their digital mind-sets and are guaranteed to improve their test scores.
"Kranse is a complete game changer in the SAT-prep market", said Cristin McVey Ph.D, a twenty year college advisor and test prep instructor from San Diego. "Their online course content and structure is innovative, exciting and totally connects with today's teenagers. With their new Kranse mobile app, they have added even greater interaction and engagement, anytime and anywhere, giving students a very affordable, sought-after advantage in this very competitive space".
The app is available both for Android and Apple smartphones and is a free download for any of our students.
Kranse Institute is a Nevada based, industry leading, education content developer and digital distributor. Our SAT- prep is our first on-demand, online course. Developed by Shaan Patel, a student who went from average to scoring a perfect 2400 on his SAT exam. From his own experience, he developed a proprietary form of preparation that students find easy and compelling to use. His results speak for themselves with an average improvement score of 210, the highest in the industry. To learn more about Kranse, their SAT-prep online course, or their new mobile app, contact Steve King at 1.858.761.6062 or email, steve(at)kranse(dot)com, or visit the website at http://www.kranse.com