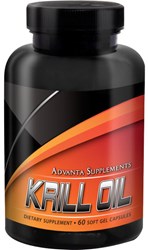 Krill Oil provides most all of the benefits of Omega 3 but has 80% less fat content.
Des Moines, IA (PRWEB) July 30, 2013
Advanta Supplements is pleased to announce that their Krill Oil is now back in stock and is available for immediate purchase on Amazon. Introduced just six weeks ago, there has been incredible demand for this amazing Krill Oil since its introduction to the marketplace.
A spokesman for Advanta Supplements noted, "Our Omega 3 fish oil has been extremely popular with our customer base but some people were asking us for a product that was not fish oil based and was easy to take but still provided fish oil benefits. Normal fish oil can generally yield in excess of 80% fat. Krill Oil on the other hand yields less than 5% fat. An additional benefit is that Krill Oil also acts as an anti-oxidant, where standard fish oil does not."
Advanta Supplements also stated that they hoped the current supply would keep up with demand, but they are not able to guarantee availability in the long term.
Krill Oil by Advanta Supplements is available for purchase from Amazon.com at http://www.amazon.com/Advanta-Supplements-Krill-Oil-Softgels/dp/B0068R98P2. Each 60-capsule bottle sells for $15.89, which is 17% savings off the list price. Additionally, individuals who purchase two bottles will receive a third bottle at no additional cost, and their purchase is eligible for Amazon.com's "Super Saver" shipping option.
About Advanta Supplements
Located in the heart of Iowa, Advanta Supplements partners with FDA-approved labs to develop, test, and manufacture a line of quality vitamins and nutritional supplements. All Advanta products are made in the U.S. and backed by a complete customer satisfaction guarantee.