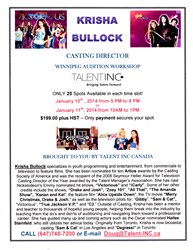 "This is just the sort of opportunity we love to create for our Winnipeg client base" ~ Doug Sloan - Owner, Talent INC Canada
Winnipeg, Manitoba (PRWEB) December 03, 2013
Tobi Léveillé, owner of Promenade Dance Academy in Winnipeg, and Regional Director for Talent INC Canada is very excited about the upcoming workshop with Krisha being brought to Winnipeg by Talent INC Canada owners Doug Sloan, and John Stevens.
"Doug and John have been instrumental in promoting Winnipeg talent on a national level through their Canadian National Conference, the fact that they are creating these opportunities for the Winnipeg arts community is a testament to their dedication to their clients all across Canada" explains Tobi.
Krisha Bullock specializes in youth programming and entertainment, from commercials to television to feature films. She has been nominated for ten Artios awards by the Casting Society of America and was the recipient of the 2008 Seymour Heller Award for Television Casting Director of the Year awarded by the Talent Manager's Association. Those accolades were the result of her work on Nickelodeon's Emmy nominated hit shows, "Victorious" and "i-Carly".
Some of her other credits include the shows, "Drake and Josh", "Zoey 101", "All That", "The Amanda Show", "Kenan and Kel", the feature film "Alice Upside Down", the TV movie "Merry Christmas, Drake & Josh," as well as the television pilots for, "Gibby", "Sam & Cat", "Victorious", "True Jackson V.P." and "C3."
Outside of Casting, Krisha has been a mentor and teacher to thousands of hopeful young people, helping them break into the industry by teaching them the do's and don'ts of auditioning and navigating them toward a professional career. She has guided many up and coming actors such as the Oscar nominated Hailee Steinfeld, who still utilizes her advice today.
Originally from Toronto, Krisha is now bicoastal, casting "Sam & Cat" in Los Angeles and "Degrassi" in Toronto with the incredibly talented office of Larissa Mair Casting.
Talent INC Canada is pleased to announce that Krisha will be holding an exclusive event in conjunction with Talent INC Canada this coming January 2014. Krisha will be holding a private training session in which young actors will have the chance to work with her one on one on scene work, and audition technique.
Doug Sloan, one of the owners of Talent INC Canada, said that "for Krisha to be working with our students is a huge acknowledgment. We appreciate her time and energy as she helps give our students an edge in the entertainment industry. This is just the sort of opportunity we love to create for our Winnipeg client base".
Registration is open and more information can be obtained by calling Doug Sloan in the Toronto office at (647)748-7200.