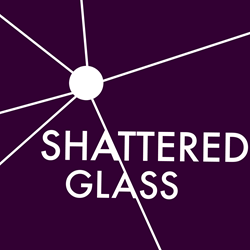 PITTSBURGH (PRWEB) July 26, 2021
In an open letter published today, a group of female business professionals who created the original Shattered Glass Podcast, are calling on actress Kristen Bell and celebrity podcaster Monica Padman to do more to support the rights of small content creators after the duo launched a podcast of the same name and subject matter under the well-known Armchair Expert umbrella.
Marita Garrett, Monica Hershberger, and Jessica Kaminsky launched the original Shattered Glass Podcast in 2017, to share the stories of extraordinary women shattering the glass ceiling. But on June 22, 2021, Bell and Padman released a podcast with the same name and same concept and drew on their network of A-list celebrities to book guests like Oprah Winfrey, Malala Yousafzai and Gloria Steinem.
Garrett, Hershberger, and Kaminsky were not contacted in advance of the Bell/Padman podcast's release about licensing the title. Bell and Padman not only assigned no value to the work of Garrett, Hershberger, and Kaminsky, but, to make matters worse, they encouraged listeners to start their own "shattered glass." Last week Bell and Padman, seemingly realizing they were in the wrong, responsively rebranded their podcast; However, irreversible damage to the original creators' brand was already done.
In an "Open Letter" posted to their website, Garrett, Hershberger and Kaminsky are calling on Bell, Padman, and their team to use their situation and influential platform to bring light to both the rights of small content creators and the important content that women – particularly those of color – are developing.
The letter states, in part:
We recognize that you take these matters seriously, not only based on your own personal brand but on the intention and mission of your podcast. Last week, you changed the name of your podcast. Thank you. We of course believe it was the right thing to do, and a step in the right direction. Malala Yousafzai, who was recently on your show, famously said, "I raise up my voice—not so I can shout but so that those without a voice can be heard. We cannot succeed when half of us are held back." We do not wish to create an adversary, but to build an alliance. We see this as the opportunity to uplift and inform, to help creators understand and utilize their rights, and to promote the universal message of women shattering glass.
This represents the latest in a string of accusations and appropriation missteps, which has also included the recent strike of Black creators on Tik Tok, the Lady Antebellum lawsuit, and Urban Outfitters' accusations.
About Shattered Glass Podcast
Since 2017, Shattered Glass has shared stories of extraordinary women shattering the glass ceiling. Hosted by Marita Garrett and Monica Hershberger, Shattered Glass is available for subscription on iTunes, Spotify, Soundcloud, and Stitcher. For more information, contact the Shattered Glass team at shatteredglasspodcast@gmail.com or visit the official website: http://www.shatteredglasspodcast.com.
To listen to the podcast, visit http://www.shatteredglasspodcast.com or subscribe on iTunes, Spotify, Stitcher, or Soundcloud.