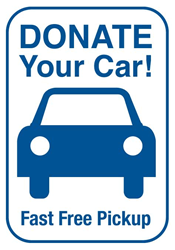 Staying true to our goals enabled Kars-R-Us to send over one million dollars to our charity clients.
Altadena, CA (PRWEB) August 30, 2014
In a little over five years Kars-R-Us processed over 10,000 car donations and mailed checks to charity clients for over $1.2 million dollars! In 2009 Michael Irwin and Lisa Frank decided to start a car donation processing company that focused on service to the donor and a high rate of return to the charities. They contacted charities in need of additional funding, set up advertising programs, made arrangements to sell the donated cars through local and national auto auctions, and then got to work assisting donors.
The Mission Statement of Kars-R-Us is: "To provide each donor with the best possible donation experience, while generating the highest possible return for our charity clients." To reach that goal Michael and Lisa are hands-on assisting charity clients and donors. Lisa says, "Answering questions, getting cars get picked up quickly, and providing donors with the paperwork needed to take the maximum tax deduction is important to the success of our car donation programs. Staying true to our goals enabled Kars-R-Us to send over one million dollars to our charity clients."
Michael works directly with charity clients to help promote their car donation program. In addition to managing paid advertising programs, Michael says, "When someone has a car to donate they'd prefer to give it to an organization they've supported in the past. Banners, posters, and flyers are all excellent ways to let people know your charity will accept their car donation, and we provide all of those materials to our clients at no charge. We also list our clients (at no charge) on our website http://www.donation2charity.com. Donors can find answers to frequently asked questions and donate online in just a few minutes. We also have operators standing by 24 hours a day, 7 days a week at 888-325-4155. Even small, local charities, can enjoy the benefits of having professionals handle their car donations. Any charity interested in our program can reach me directly at michael(at)kars-r-us(dot)com, 877-500-5277."
Another reason for the success of the Kars-R-Us program is the large network of auctions and salvage yards used to sell the donated cars. Lisa points out that, "Each donation is evaluated for its potential value, and the decision is made for how to get the best return for our charity clients. We work with both local auto auctions and nationwide chains, and sell some cars directly to salvage yards. Any auto auction or salvage yard interested in working with donated cars can contact me directly, lisa(at)kars-r-us(dot)com, 877-527-7758."
Michael and Lisa are both looking forward to the next 10,000 donations! "We take pleasure in assisting donors and in helping our clients meet their fundraising goals!"