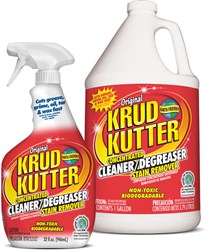 Krud Kutter's Tips for 10 Days to a Sparkling Kitchen
Atlanta, GA (PRWEB) February 18, 2014
Krud Kutter®, an eco-friendly line of cleaning solutions, announced today "Tips for 10 Days to a Sparkling Kitchen." The kitchen is the heart of the home and the room where families spend most of their time; however all of that activity can leave a lot of food, grease and dirty fingerprints on all surfaces of the kitchen.
"With winter weather continuing to cover much of the country, it is easy to find ourselves stuck in a rut inside watching too much TV. However, with warmer days in the near future, it is a great time to jump-start spring cleaning and what better place to start than the kitchen," said Jason Roussel, director of marketing with Krud Kutter. "It can seem like a daunting project, so we developed the Tips for 10 Days to a Sparkling Kitchen to break it down into manageable daily tasks."
Tips for 10 Days to a Sparkling Kitchen
Day 1 - Cupboards inside and out
○ Use a damp cloth with Original Krud Kutter to remove fingerprints, cooking oils, grease and more. When organizing, make sure the most used items are easily accessible and be sure to check expiration dates.
Day 2 - Refrigerator organization
○ Shelf or drawer? High or low? Cold storage is all about location and a properly organized space can minimize waste and save you time.
Day 3 - Freezer, icemaker, shelves and drawers
○ Remove and wipe down shelves and drawers with warm, soapy water and a sponge. Use Krud Kutter to remove grime from rubber door seals, and spilled food from refrigerator and freezer bottoms. Don't forget to empty the ice maker and start making all new ice.
Day 4 - Under cabinets and baseboards
○ Spray Krud Kutter on baseboards, under cabinet bases and toe kicks to remove scuffmarks, food and drink splatters. Have you looked under there recently?
Day 5 - Over the cabinet dust
○ Over time dust, humidity and cooking oils will combine to form an icky mess. Use Krud Kutter to break it down and wipe it clean. Use wax paper to line the cabinet tops and collect future gunk formation.
Day 6 - Stove and oven
○ Spray Krud Kutter full strength on the base of the oven and under stove coils to remove baked-on grease and grime. Use a paper towel soaked in Krud Kutter to stick to oven walls and help cut grime from vertical surfaces.
Day 7 - Pantry or cupboard
○ Much like refrigerator organization, an organized pantry can save time and minimize waste. Don't forget to clean food splatter behind garbage cans and recycling bins with Krud Kutter.
Day 8 - Under the sink
○ Under sink cabinets can get pretty dirty over time. Organize and replace any old sponges or gloves. Wipe down any spilled soaps and powder detergents. Cut down on clutter by replacing numerous job specific cleaners with 1 multi-purpose, multi-surface bottle of Original Krud Kutter.
Day 9 - Table legs and kitchen chairs
○ Wipe down table legs, chair legs and backs with Krud Kutter to remove scuff marks and food splatter.
Day 10 – Backsplash
○ Remove grease, grime and food from tile, grout and many other hard non-porous surfaces.
Krud Kutter® has earned the trust of millions of homeowners through 30 years of consistently providing eco-friendly solutions for tough tasks. The brand has a continuous commitment toward providing effective cleaning solutions that are safe for the environment and families. Krud Kutter products can be purchased at home improvement, hardware, and paint stores. For more information visit http://www.KrudKutter.com.
About Krud Kutter
Krud Kutter, an eco-friendly line of cleaning solutions, produces non-toxic, biodegradable products and has been a leader in the market for over 30 years. Krud Kutter's unique formulas safely remove the toughest stains and everyday messes that most "all-purpose" cleaners can't touch, including grime, grease, pet stains, crayons, dried latex paint and even permanent marker. Earning the trust of millions of users ranging from homeowners to contractors and industrial applicators, Krud Kutter solutions ensure performance, ease-of-use and value. Tough tasks are made simple through the product line, including cleaner and stain removers, concentrations and outdoor cleaners, paint prep and clean up, rust remedies, auto cleaners and removers, and specialty products. The philosophy behind the line is that cleaners should clean without being toxic to the environment and family.