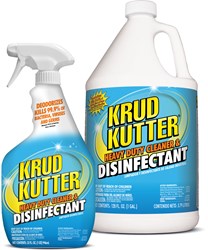 Cumming, GA (PRWEB) September 10, 2013
Krud Kutter®, an eco-friendly line of cleaning solutions, is taking a stand against the flu this season. Although the flu shot is a popular method of flu prevention, there are many new strains it does not protect against. This means even the most prepared can still come into contact with and contract the flu. In an effort to kut your chances of contracting the flu, Krud Kutter is offering a few commonly forgotten prevention tips:

Wash Your Hands: It seems simple, however many people forget this when they're focused on their busy day. Washing your hands is one of the best ways to prevent germs from getting into your system.
Drop the Care Package At The Door: We get that you want to take your sick friend soup and cough drops, however just leave it at the door. Entering the home of an infected person only increases your chances of contracting the flu.
Use Disinfectant Cleaner Often: Make sure to use a disinfectant in kitchens, bathrooms and high contact areas often. Krud Kutter Heavy Duty & Cleaner & Disinfectant kills 99.9% of bacteria, viruses and germs. It also controls and inhibits the growth of mold and mildew on hard, non-porous surfaces without the use of bleach.
Drink Your OJ: Pumping your body with vitamin C is a good way to build up your immunity and prepare your body to fight the flu virus.
The Krud Kutter® team hopes you use these tips to kut the flu out of your life this season! To find out where you can purchase Krud Kutter Heavy Duty Cleaner & Disinfectant, visit: http://www.krudkutter.com.
About Krud Kutter
Krud Kutter, an eco-friendly line of cleaning solutions, has provided non-toxic, biodegradable products to the market for over 25 years. The line's unique formulas safely remove the toughest stains and everyday messes that most "all-purpose" cleaners can't touch including grime, grease, pet stains, crayons, dried latex paint and even permanent marker. Earning the trust of millions of users ranging from contractors and industrial applicators to homeowners, Krud Kutter solutions ensure performance, ease-of-use and value! Tough Tasks are made simple through the product line including cleaner and stain removers, concentrations and outdoor cleaners, paint prep and clean up, rust remedies, auto cleaners and removers, and specialty products. The philosophy behind the line is that cleaners should clean without being toxic to the environment and your family.
For more information, contact:
Jason Roussel
Director of Marketing
jason(at)krudkutter(dot)com
678.341.7073