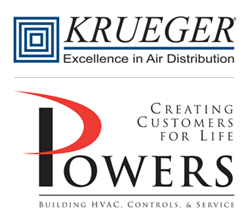 Powers of Arkansas is pleased to have the opportunity to make Krueger-HVAC the preferred supplier of air distribution products with Engineers throughout Arkansas.
Richardson, TX (PRWEB) February 20, 2014
Since 1985, Powers of Arkansas has been an independent manufacturers' representative for commercial and industrial HVAC systems, building long-term relationships with many of the industry's leading air distribution brands. The addition of Krueger-HVAC air distribution products to their already plentiful line card will further increase their capacity to meet their customers' ever changing HVAC construction needs.
"We certainly look forward to growing the relationship with Powers of Arkansas and becoming more accessible to engineers, architects, building owners, and contractors in the state," said Paul Christiansen, Vice President of Sales and Marketing at Krueger-HVAC. "Given the close proximities of our businesses, we welcome their customers to come and meet our staff, experience our lab, and see product demonstrations in person."
Operating out of two offices, located in Little Rock and Springdale, Powers of Arkansas not only holds the largest sales staff, but they are the most trained of any independent manufacturers' representative in the state. In fact, they hold over 300 years of combined industry experience and service everything that they sell. This, combined with their commitment to providing first-class customer service, has continually increased their market presence. As a result, they have been involved in several prominent, successful projects, such as the Crystal Bridges Museum for American Art in Bentonville, University of Arkansas Medical Sciences Campus (UAMS) Little Rock, Arkansas State Capitol, and Clinton School of Public Service.
"Powers of Arkansas is pleased to have the opportunity to make Krueger-HVAC the preferred supplier of air distribution products with Engineers throughout Arkansas." said Alan Hope, President of Powers of Arkansas.
From system design services, custom selections, product training, and post-sale support, Powers of Arkansas is dedicated to assisting their customers throughout the entire experience. For specialized applications, engineers can rest assured that Powers of Arkansas has the knowledge and expertise to handle the complexities these projects present, as they have provided HVAC sales and service for over 70% of the hospitals, 60% of higher education buildings, 65% of large commercial facilities, 95% of federal buildings, and 60% of state buildings within Arkansas.
For customers that have tight deadlines, Powers of Arkansas makes available a variety of products in their two stocking warehouses, which will soon include a variety of Krueger-HVAC grilles, registers, diffusers, and terminal units. Complete with engineering, application, and product support services, Powers of Arkansas is well suited to remain a top resource for a variety of air distribution solutions for years to come.
Krueger-HVAC is committed to providing sustainable, innovative air distribution products and solutions through industry involvement, personnel and facility investments, and training programs for architects, building owners, contractors and consulting engineers. Partnerships with knowledgeable, service-oriented Manufacturer Representatives that share similar values and goals continue to play a large part in Krueger's growth and success.
For more information about Krueger-HVAC air distribution solutions or to obtain a copy of Krueger's Product Catalog, visit http://www.powersar.com or http://www.krueger-hvac.com.
About Krueger-HVAC
Krueger-HVAC is a leading manufacturer of air distribution solutions for commercial and industrial applications, including grilles, registers, diffusers, terminal units, fan coils, underfloor products, critical room products, fan filter units, displacement ventilation, as well as chilled beams. Krueger-HVAC is a division of Air System Components, Inc. (ASC). ASC is a subsidiary of Air Distribution Technologies, Inc.
About Powers of Arkansas
Powers of Arkansas provides HVAC equipment, controls, and service for commercial, institutional, and industrial markets with the attitude of creating customers for life. For more information about Powers of Arkansas and its operations (5440 Northshore Drive | North Little Rock, AR 72118), call 501-374-5420.