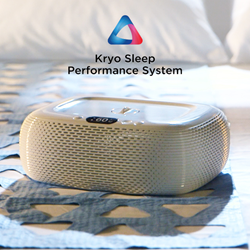 We're excited to share Kryo's revolutionary technology with the world and offer consumers an affordable way to improve their quality of life with better sleep.
CHARLOTTE, N.C. (PRWEB) September 22, 2016
Kryo launched on Indiegogo today offering consumers the smartest cooling sleep improvement device currently on the market. Using a water-based thermo regulator, the single-sized mattress pad can cool down to 60 degrees Fahrenheit. By leveraging data from wearables and other sleep tracking devices, Kryo is the first of its kind to automatically cool users throughout the night. In addition to its list of unique features, Kryo offers a low-cost advantage compared to other less advanced products currently available.
"Sleep is not just about comfort. Now that we can accurately measure sleep quality, we must improve it. Temperature is the biggest previously unmanaged factor that affects sleep quality," Kryo co-founder Todd Youngblood said. "We're excited to share Kryo's revolutionary technology with the world and offer consumers an affordable way to improve their quality of life with better sleep."
Kryo's Sleep System easily syncs with leading sleep tracking devices and their apps, including FitBit, Jawbone and Misfit. Together, these fitness apps and Kryo track and improve sleep quality throughout the night. The quiet control unit is also small enough to fit under the bed, out of sight.
The National Sleep Foundation recommends individuals sleep at 65 degrees Fahrenheit. This is no surprise to athletes who have been using cryotherapy and other cooling technologies at an increasing rate over the last 20 years. Many individuals have adopted cooling methods throughout the night to reduce their heart rate, improve their circulation and encourage speedy recovery times. By combining sleep tracking and cooling therapy, Kryo delivers active temperature management throughout the night while optimizing sleep quality.
Kryo's technology has shown to increase the quality of REM and deep sleep by as much as 20%, which is equivalent to an extra hour of sleep per night. By sculpting individual sleep cycles and using Kryo's "warm awake" feature, users can begin each day with the best sleep of their life. Increased REM and deep sleep lead to improved reaction times, reduced injury rates and fewer mental errors. This technology has previously only been available to professional and elite athletes but, with Kryo, is now available and affordable for everyone.
The new Kryo unit launched on Indiegogo today at discounted prices starting at $99, which is 66% off the future retail price. Backers will have a chance to be the first Kryo owners and experience sleep like never before. For more information, visit the campaign at bit.ly/KryoIndie.
About Kryo's Founders
Partners Todd and Tara Youngblood have developed and commercialized products resulting in well of $100,000,000 in retail sales over the past 15 years. Todd's uncle invented the waterbed 45 years ago and acknowledges how waterbed owners were very fond of sleeping amazingly cool each night. With their passion for innovation, history of success and an intimate knowledge of the sleep industry, Todd has served as chairman of the Specialty Sleep Industry Association and has actively participated in development projects for all of the leading mattress brands. After serving five consecutive years on the INC 5000 list, the Youngbloods know how to scale businesses. For more information on Kryo, visit bit.ly/KryoIndie.