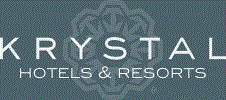 Las Vegas, Nevada (PRWEB) August 30, 2013
Krystal Resort Cancun is now offering this amazing Manic Monday deal for travelers that book their stays on a Monday. Arrivals for this are open to any day of the week making it easy for travel arrangements. From the moment visitors check in to their room in paradise, Krystal Resort Cancun's dedicated staff has already thought of everything to make the stay comfortable. Krystal provides a variety of choices when it comes to rooms, suites and luxury amenities with outstanding views and affordable prices.
Every hotel room is outfitted with marble floors, a mini bar, electronic safety deposit box, flat screen TV, interactive movies, and access to long distance calls. Exceptional culinary delights are available for every palate at the several restaurants located on-site and entertainment and world-class shopping are nearby as well.
Make romantic dreams come true with this exclusive offer now available at Krystal Resort Cancun. This destination hot spot offers 24/7 fun for all ages. Leave the hustle and bustle of the world behind to relax on a stretch of white sand beach, take a dip in the resort's panoramic pool, or enjoy a massage at the spa. Everything that could be wanted is all at a traveler's fingertip and Krystal Resort Cancun's goal is to ensure complete relaxation. Come, play, eat, and relax while exploring life's most memorable moments at Krystal.
Krystal Resort Cancun has drawn the attention those that travel to the region year after year and are drawn to the resort's natural splendor and attention to every detail. Cancun is packed with a rich history, excitement and endless activities that this tropical paradise offers it all.
Wake up each morning to a stunning view of the water as the sun rises in the sky and end the day with a picture-perfect sunset followed by twinkling stars over the midnight sky.
Moments like this are impossible to put a price tag on but Manic Mondays are allowing visitors to get a second room for half price. Come take advantage of this offer and enjoy the warmth and splendor of Mexico that only Krystal Resort Cancun can provide.
****
Krystal Resort Contact Information:
Toll Free: 1-888-774-0040
Locally: (305) 774-0040
info(at)krystalcancun(dot)com
http://www.krystalcancun.com