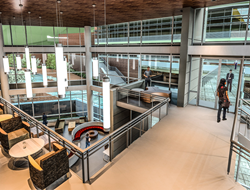 "The collaboration will provide WCU students with hands-on, state-of-the-art educational opportunities..." - Doug Keskula, Dean of the College of Health and Human Services
Charlotte, N.C. (PRWEB) July 30, 2015
KSQ/Peterson has been selected as the lead design firm for a new facility that will serve as a regional hub for community wellness and health innovation at Western Carolina University (WCU). The national, full-service firm is partnered with Brackett Flagship Properties and Tyler 2 Construction on the new 45,000 SF project. The building is the first privately developed facility on WCU's 344-acre Millennial Campus near Cullowhee, North Carolina, and part of the university's Millennial Initiative.
In addition to being a medical office building, the space will offer a health retail component, flexible research space, and house clinics and services linked to WCU programs that offer collaborations between healthcare partners in the region and WCU faculty and students. As a Community Engaged University, WCU seeks to create and enhance economic development in the region and facilitate the development of a highly skilled, community oriented health workforce.
"We expect collaboration with partners in the medical office building to help meet the diverse needs of the community," said Doug Keskula, Dean of the College of Health and Human Sciences. "The collaboration will provide WCU students with hands-on, state-of-the-art educational opportunities, while offering professional practice and research opportunities to faculty members and clinical teaching opportunities for our partners."
KSQ/Peterson Senior Project Manager and Associate David Meech, AIA, LEED AP, is the Project Designer and Manager. The project is currently in the schematic design phase and is scheduled for completion in January 2017.
KSQ/Peterson is a regional office of KSQ Architects–a full-service firm providing architecture, engineering and interior design services to clients in the K12, higher education, healthcare, senior living and multifamily market sectors. Recent KSQ/Peterson projects include Southeastern Regional Medical Center Health Park, residence hall renovations at UNC Charlotte, additions and renovations at Crowders Creek Elementary, and Carolina Orthopedic & Sports Medicine Center.
For more information and additional project images, please visit ksqpeterson.com. To view a project video please visit https://youtu.be/UiNMXCPC784 and set view to 1080p for a high quality visual tour of the project design and site.
##