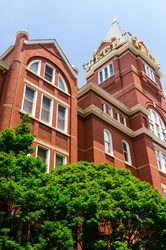 Atlanta, GA (PRWEB) September 06, 2013
This week Kuck Immigration Partners filed a Motion for Summary Judgment in the Dekalb County (Georgia) Superior Court litigation seeking in-state tuition for beneficiaries of the Deferred Action for Childhood Arrivals ("DACA") program. In DACA Beneficiary Georgia College Students, et. al., v. Board of Regents, Civ. Action No. 13CV8311-9 (Dekalb County Superior Court), the plaintiffs seek a declaration that they are eligible for in-state tuition in Georgia, if they meet all residency requirements.
Charles Kuck, the attorney for the 39 plaintifffs in this Declaratory Judgment litigation said: "The DREAMers were brought to the United States as children, were educated in our schools, and seek to continue their education in our colleges and universities. We should applaud and encourage this desire to seek a higher education. These DREAMers are residents of the state of Georgia as much as their classmates who are documented immigrants and native born children. They and their parents pay the same taxes as other children's parents, and these DREAMers now have lawful presence in the United States. This lawsuit seeks a level playing field for their education."
If granted, the Declaratory Judgment would allow all DACA approved individuals, who otherwise qualify for residency in Georgia, to attend any college or university in Georgia to which they are accepted and permit them to pay in-state tuition for their education.
For further questions or a copy of the Motion for Summary Judgment, please contact Charles Kuck at ckuck@immigration.net or 404-816-8611.