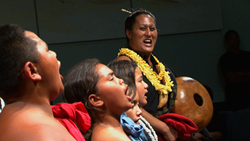 Imagine a world where a little boy can grow up to be the woman of his dreams, and a young girl can rise to become a leader among men. Welcome to Kumu Hinaʻs Hawaii, where thereʻs a place in the middle for all.
Honolulu, HI (PRWEB) April 09, 2014
At a time when transgender and gender nonconforming people the world over face hostility, violence, discrimination and even murder, a new film from Hawaii offers a fresh perspective and a bold campaign to promote a more just and inclusive world.
KUMU HINA (Teacher Hina) tells the inspiring story of Hina Wong-Kalu, a transgender native Hawaiian teacher and cultural icon who brings to life Hawai'iʻs traditional embrace of mahu - those who embody both male and female spirit. The film will have its world premiere as the Closing Night Film in the Hawaii International Film Festival on April 10 in Honoluluʻs historic, 1,400 seat Hawaii Theatre.
The sold-out show will also be the launch of a global campaign for gender diversity - #APlaceintheMiddle - aimed at helping audiences across the U.S. and around the world see themselves, their families, schools and communities in powerful new ways and ensuring that no one, particularly youth, faces harassment, discrimination or violence because they don't conform to society's traditional view of gender norms.
Produced by Emmy-winning directors Dean Hamer and Joe Wilson in association with Pacific Islanders in Communications and ITVS, the film traces Kumu Hinaʻs evolution from Collin Wong, a timid high school boy, to her present position as a married woman and cultural director of a school in one of Honoluluʻs grittier neighborhoods.
When Ho'onani, a charismatic 6th grade girl, asks to join the schoolʻs all-male hula troupe, Hina gives her the opportunity to express her inner male spirit. As teacher and student prepare for a climactic end-of-year performance, they meet many obstacles, but hold fast to the idea that being true to oneself matters most.
"The film shows why kids like Ho'onani, and teachers like Hina, should be cherished and admired, not harassed and disrespected," said Hamer.
"Their story will be an inspiration for the world," added Wilson.
The film also delves into Hinaʻs pursuit of a dream of her own; a fulfilling romantic relationship. Her marriage to a headstrong Tongan man, and the challenges they encounter, offer a glimpse of a Hawaii never before seen on film, and hopeful insights about the universal quest for love and acceptance.
"This amazing film allows audiences an intimate and refreshing view of Pacific Island life and culture through iconic Hawaiian leader, Hina Wong-Kalu," said Leanne Ferrer, director of Pacific Islanders in Communications. "I know that KUMU HINA will inspire and bring understanding and enlightenment to all who view it."
The film is being released as Hinaʻs star is on the rise. In addition to her high cultural profile as Chair of the Oahu Island Burial Council, she just announced her candidacy for the Office of Hawaiian Affairs, making her among the first openly-transgender candidates to run for a statewide political office in the United States.
This very special Honolulu premiere will be the hometown send-off for KUMU HINA as the film embarks on a campaign to spread a message of cultural preservation, empowerment, and gender diversity and inclusion across the U.S. and around the world. The campaign will be focused on festival, community and educational screenings, complemented by national PBS broadcast in 2015.
"We usually select a fiction film for closing night," said Hawaii International Film Festival director Robert Lambeth. "But KUMU HINA is no ordinary documentary. It's an inspiring and emotional journey that unfolds like a narrative film - a love story about the true meaning of aloha."