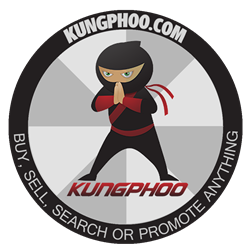 Kungphoo's not only taking the pain out of promoting your business online, but also providing consumers with a socially induced marketplace to discuss and take advantage of listings.
New York, NY (PRWEB) October 01, 2013
Kungphoo is pleased to announce the next generation of social marketing and social commerce combined. For business, Kungphoo offers a complete array of tools which enable any company, organization, or individual to maximize the efficiency of their online presence at a much lower cost than traditional online marketing, SEO, PPC, and ads. Kungphoo combines a fully integrated interface that acts like a combination of Facebook fan pages, Craigslist advertising, and Yahoo Answers to enable users to buy, sell, promote, or research virtually anything.
On the consumer side, Kungphoo brings together like-minded individuals by allowing users to create purpose-based social circles that anyone can join to discuss, research, or promote their products and topics. By utilizing these circles, users are able to connect directly with their target audience via Kungphoo's collaborative marketplace and even cross-promote their topics across all major social networks.
The Kungphoo platform requires no sales people, no overhead, and no waiting – simply create a circle with their easy-to-use interface and begin promoting an idea immediately. Best of all, Kungphoo is 100% free for both businesses and individuals with no hidden fees and no jumping-through-hoops required. Create local, national, or even global listings based on needs – making Kungphoo flexible enough for use by both traditional brick and mortar companies and Internet-based businesses.
Kungphoo circles allow businesses to create specially tailored bulk and volume discounts aimed directly at their most interested consumers. Kungphoo even offers a unique "stir the pot" feature which connects users directly with a marketing specialist (known as senseis) who will help increase a circle's visibility and traffic.
In addition, circles allow users to broadcast or seek information, promote or sell products and services, publicize events, or highlight organizations. Because users choose which circles to join, they can take advantage of Information and offerings within the Kungphoo marketplace without being inundated with unwanted ads or come-ons.
It takes just minutes to create a circle, promote it to the social media world, and reach thousands of like-minded individuals. In addition, Kungphoo offers real-time communication along with tools to enhance branding capabilities, allowing users to build a captive social audience for any desired purpose.
Users are passionate about the potential for the power of Kungphoo to substantially improve their online experience. Here are some examples of what people are saying about Kungphoo.
"Holy Cow, that's awesome! I don't think I've ever heard of anyone approaching social media like that. Love it!" - Don P.
"Wow, that is a really great service that no other social media offers! That kicks complete a$$! Go Phoo!" - Deanna H.
"It's great how solidly you can tie your company's activities to your branding. And the services seem all-encompassing and supportive. Looks like a winning strategy for everyone!" Sharon O.
"This is an awesome concept. KungPhoo is going to be as big as yahoo but for marketplace." - Dov S.
"Wow that is pretty amazing. 'like buying bulk at wholesale prices. Great service!" - Kelly
For free advertising and promotion no online service is more effective than Kungphoo at connecting you with the exact audience you need to reach, and it won't cost you a cent. Please visit the site today to leverage the power of dynamic social marketing.
ABOUT KUNGPHOO
Kungphoo (http://www.kungphoo.com) is an easy to use, dynamic social marketing and commerce platform. You can buy, sell, promote or search for anything collectively with like-minded individuals by creating purpose-based 'circles' that people can join to talk about or take advantage of. Listings are promoted within the kungphoo marketplace as well as across the social media world.