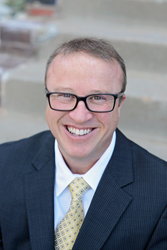 The first thing a prospective buyer sees is the front of a house, which includes the yard and exterior of a home.
Westminster, CO (PRWEB) May 10, 2016
Broker associate Kurt Blackburn, of RE/MAX Northwest, stresses that curb appeal is one of the essential elements of a successful home sale. "The first thing a prospective buyer sees is the front of a house, which includes the yard and exterior of a home," said Blackburn. "If either of them looks shabby, that once potential buyer might just keep driving to the next house for sale, one that has great curb appeal."
To help sellers not kill their curb appeal, and bring buyers inside, Blackburn lists the following three tips:
No. 1: Touch-ups. "This includes touching up the paint on the exterior of your home if it's peeling or faded," said Blackburn. "It can also be as simple as cleaning dirty windows and baseboards, or any routine touch-ups that are small but overlooked. The unspoken things can help increase your value."
No. 2: Landscaping. Landscaping will not only add value to a home, but appeal to any buyer. To enhance landscaping, Blackburn suggests always keeping the lawn mowed, bushes and trees neatly trimmed, and planting flowers, particularly yellow ones as they stimulate buying urges.
No. 3: Minor repairs. "Nothing scares off buyers more than a home that needs repairs," said Blackburn. "However, many repairs are minor, and can be fixed by the homeowner at little cost. For example, window or door screens that are torn or windows that are cracked or broken. To ensure a successful sale, your house needs to shine and have immaculate curb appeal at all times."
About Kurt Blackburn, RE/MAX Northwest
Kurt Blackburn is a broker associate at RE/MAX Northwest. He works with both buyers and sellers, specializing in residential and buyer brokerage. For more information, please call (303) 590-5641. The office is located at 12000 Pecos Street, Suite 160, Westminster, CO 80234.
About the NALA™
The NALA offers small and medium-sized businesses effective ways to reach customers through new media. As a single-agency source, the NALA helps businesses flourish in their local community. The NALA's mission is to promote a business' relevant and newsworthy events and achievements, both online and through traditional media. For media inquiries, please call 805.650.6121, ext. 361.