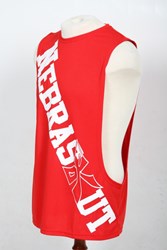 "Wearing Kut Offs has really helped inspire me in the gym to be a better version of me!"
Grand Island, Nebraska (PRWEB) October 10, 2013
Kut Off, LLC, is a company specializing solely in the production of open-sided athletic shirts. Now, in addition to producing the original "Kut Off Classic," it will produce a second version of this open-sided shirt using moisture wicking material. This shirt is called the "Kut Off Athlete."
The shirt may be seen on http://www.kickstarter.com/projects/373879402/kut-off-open-sided-athletic-and-casual-wear-shirts
In rural central Nebraska, Derek Lux, a high school senior with no experience or special training in the clothing business, formed a company to begin producing athletic sport apparel. Mr. Lux did not like the performance or cooling capabilities of regular t-shirts worn during sport activities and workouts. He felt other active wear was uncomfortable or just too tight. "I was just a normal high schooler looking for a better shirt. When I began cutting the sleeves off and opening up the side of my t-shirts, I noticed right away how much cooler and more comfortable I was," says Kut Off CEO Derek Lux.
Homemade cut-offs do not last since freshly cut material frays and continues to tear. With no option to purchase this design of shirt, Mr. Lux, formed Kut Off to produce a precut, hemmed, open-sided sport shirt. Sales initially were made out of the trunk of his car; however, with the establishment of an internet site, Kut Off has sold shirts in over 20 U.S. states, including Hawaii, as well as overseas in Germany.
CEO Lux states, "I am amazed how people find my company that only offers one type of shirt design, but once you try it you fall in love with it."
"I wore my Kut Off to Disneyland this year and stayed comfortable all day long despite the long lines and Florida's heat and humidity," says Chloe Neuvirth, Blair Nebraska.
"Wearing Kut Offs has really helped inspire me in the gym to be a better version of me!" said Fernando Alvarado, Grand Island Nebraska, during his weight loss campaign.
(Guest submitted photos: http://www.kutoffs.com/photo-gallery )
Individuals wanting to learn more about Kut Off open-sided shirts can visit http://www.kickstarter.com/projects/373879402/kut-off-open-sided-athletic-and-casual-wear-shirts
or...
http://www.kutoffs.com
About Kut Off, LLC
Kut Off, LLC is the only company that produces open-sided athletic and casual wear shirts.
Derek Lux, Founder and CEO
Kut Off, LLC
308-850-5979
kutoffperformance(at)gmail(dot)com