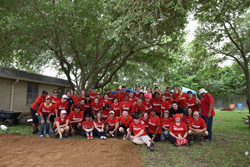 Many of the agents danced and laughed with the residents and a good time was had by all.
Houston, TX (PRWEB) June 03, 2016
Agents from Keller Williams Houston Preferred in honor of the 12th annual RED (Renew, Energize and Donate) Day, a Keller Williams Realty service initiative dedicated to improving local communities, is proud to announce it recently gave Windsong Village, a senior rehabilitation and skilled nursing facility, a much-needed makeover. "We had between 10-15 agents take on the task of painting hallways at Windsong Village, which has been around for over 40 years in Pearland, Texas," said Keller Williams Houston Preferred co-owner and Realtor Donnie Jones.
Furthermore, the project to rejuvenate the courtyard area began when five yards of crushed granite, soil and sand were delivered to the site. A new area was covered with the material where residents walk in the courtyard, new flower beds were created and over 100 new plants were placed in the beds for all to enjoy. Several new benches were also supplied and areas were created so residents could relax outside for part of the day.
During the span of RED Day, there were 75-100 agents and vendors present, including First American Title, First American Home Warranty, Star Tex Title, Texas American Title, Southland Title, Landmark Home Warranty, Perry Homes, Farmers Insurance-James Acosta, Bryan & Bryan Inspections, Redfish Inspections, NRL Mortgage, AMCAP Mortgage, Post Oak Title, Westin Homes, AskOzzie.com and Valspar Paint. There was also a dance demonstration and a sock hop, where some of the residents joined in by dancing from their wheelchairs.
"Many of the agents danced and laughed with the residents and a good time was had by all," said Jones. "For residents who could not come outside, there was a bingo game in the cafeteria, and one of the Keller Williams agents brought enough red roses for all the female residents to receive a rose."
By the end of the day, the courtyard at Windsong Village was converted into a new place for residents to view, sit and relax. "It was a day that all the participants felt transformed the location as well as the residents, who experienced the love and encouragement of all the Keller Williams Preferred family and vendors/associates," said Jones.
About Donnie Jones, Keller Williams Houston Preferred
Donnie Jones works with both buyers and sellers. He specializes in subdivisions that offer new construction, resale homes and vintage, older homes. Keller Williams Houston Preferred provides a wide range of real estate services that prove ever more valuable in real estate transactions, such as financing twists and sales contract intricacies. For more information, please call 281 670-1800.
About the NALA™
The NALA offers small and medium-sized businesses effective ways to reach customers through new media. As a single-agency source, the NALA helps businesses flourish in their local community. The NALA's mission is to promote a business' relevant and newsworthy events and achievements, both online and through traditional media. For media inquiries, please call 805.650.6121, ext. 361.